Rising star in single-seater racing has eyes on Europe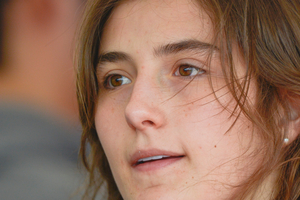 Motorsport doesn't have enough women in it - this is not a reference to fans, pit crew, mothers, daughters, girlfriends, wives or pit girls. There are just not enough females behind the wheel taking on the males.
But the annual Toyota Racing Series is one avenue for women to have a go at racing.
Tatiana Calderon does have a pedigree in single seaters. In her rookie year in the US Star Mazda Championship, she became the first female to finish on the podium with two thirds and finished sixth overall.
Moving to Europe, the 19-year-old Colombian joined the European F3 series as the only woman and again finished on the podium ending the season in ninth beating out a lot of talented young male drivers.
After two rounds in the TRS championship, Calderon sits 12th on the points table and thinks this category is an important part of her learning curve.
"One of the best decisions I have made in my career so far has been to come and race in this championship [TRS]," said Calderon.
"I've come here to prepare myself for my next season and I'm racing against drivers who I will race against in Europe."
Calderon has a calm, measured way about her that is reflected in her racing style, staying out of trouble and collecting points.
"I'm getting familiar with everything here and taking it a bit easy. Sure I want to win, but I don't want to push too soon. I think us girls think a little bit more than the boys.
"When I am confident with everything, I can go as fast as anyone. It is something I have to work, finding the limit a little bit earlier.
"I'm trying to find a balance between being aggressive and not being too stupid. I'm not going to take a corner flat-out because someone told me to - I want to check it out first. Maybe a boy doesn't really care about it and is not worried if it works or not."
Calderon's path into racing started as most young drivers does with karting. When she was about 8, she and her elder sister noticed a new karting track had been built near their home and decided to have a go.
The Calderon sisters were hooked and raced together in karts and now share endurance drives in a Kia. Calderon was reluctant to admit she was quicker than her sister moving up through the ranks, but really enjoys sharing driver duties in the endurance rounds.
"I did beat my sister in karts but I had an advantage. It's not that I am eight years younger, but that I had more time to practise and race.
"My sister had gone on to university and was studying whereas I was in the kart much more.
"I have finished school and decided, at the moment, to concentrate on my racing to see if I can make a go at it.
"If it doesn't work out, I'll go back home and carry on studying."
Cauldron hasn't put pen to paper and signed up for any specific championship in Europe yet. She wants to see where she's at come the end of the TRS series to make a final decision.
At the moment though, her eyes are on the European F3 championship.