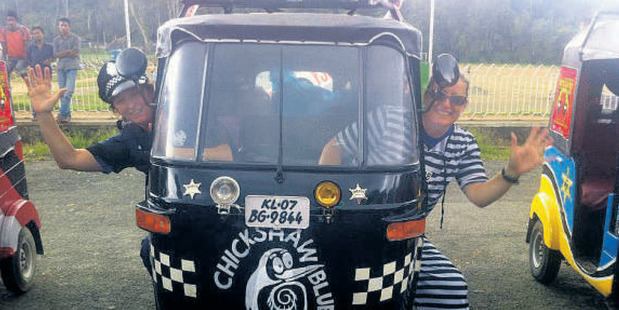 Two Northland women are stepping outside their comfort zones to test themselves in India.
Houhora policewoman Tracee Knowler (born in Kaitaia) and reporter Kristin Edge (from Whananaki) have joined forces for a 3500km race across India in a 5kW glorified lawnmower, aka a motorised rickshaw. The event involves about 60 teams from around the world.
Teams are given a start and a finish point and it is up to them to make their way between the two points as fast as possible.
"There is no set route, no back-up, no way of knowing if you're going to make it," writes Edge. "The only certainty is that you will get lost, you will get stuck and you will break down. It's just you and your mate in a wholly unsuitable vehicle ... enduring whatever s*** the road throws at you."
So why do it?
Knowler is New Zealand's most northern cop, based at Houhora. Before that, for 12 years she was a detective investigating serious crime in the Far North, some of it sexual abuse, mostly against children.
The Far North has a high level of such offending, including unreported cases never brought to public attention. Often for victims brave enough to speak out against offenders, once the court process is complete they and their families are left without ongoing support.
Edge has seen the impact on victims of abuse, interviewing families left to pick up the pieces and watched them go through the stressful court processes.
Who benefits?
The money the team raises will go to the Miriam Centre, a place of healing where people who have suffered harm can receive expert support, therapy and advice. Established in 1988, the charitable trust relies on donations and funding.
How can you help?
The Chickshaw Blues team paid its own way to India and will cover the costs of the three weeks of racing. That includes petrol and breakdowns. The two women are taking annual leave to complete the mission.
"Although we expect to enjoy the experience, and see it as the opportunity of a lifetime, it will certainly not be spent in luxury," says Edge. Lodging along the way will be in basic roadside guesthouses, or camping, and food will generally be from traditional roadside stalls.
But they need your donations, which will go to the Miriam Centre. There is a bank account and a Facebook page with a link to the "give a little" site where donations can be made: www.givealittle.co.nz/cause/chickshawblues
To follow the adventure: www.northernadvocate.co.nz or Facebook page: Chickshaw Blues
The facts
Who: Houhora Constable Tracee Knowler and Northern Advocate reporter Kristin Edge.
What: Driving a tuk tuk across India in an international race in which contestants raise money for charity.
Where: India, 3500km, from Shillong (in the northeast) to Kochi (in the southwest).
When: August 6-22.
Why: To raise money for the Miriam Centre.
How: To help, donate at: www.givealittle.co.nz/cause/chickshawblues
For more articles from this region, go to Northern Advocate