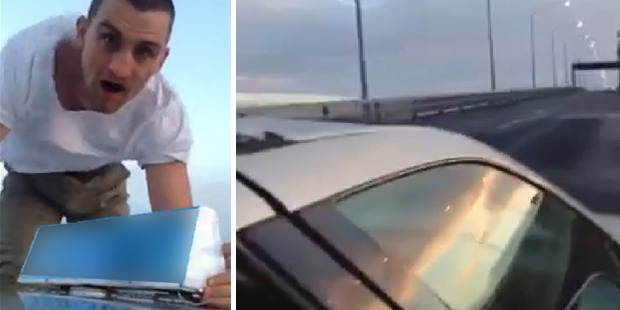 A man filmed car-surfing during a taxi ride over the Auckland Harbour Bridge has been slammed as "idiotic and reckless" by police.
Video showing the man climbing out of the vehicle and clinging to the roof was posted on Facebook and Instagram yesterday. It's unknown when it was filmed.
It starts by showing two young men in the back seat, and a third in the front passenger seat.
Watch: Car surfing across the harbour

Once the trio sort out what they're doing with the camera, the front passenger climbs out his window and pulls himself on to the roof.
Blustery winds can be heard as the man spends several moments stretched out over the roof.
At one point he smiles directly at the camera, which appears to be being held by someone leaning out of the rear driver-side window.
After climbing back in, amid screams and yahooing, one of the men turns to the taxi driver and says: "You all good?"
Inspector Mark Fergus, road policing manager at Waitemata Police, said the "idiotic and reckless act is under investigation".
"This sort of road use not only puts the 'pranksters' at risk of serious harm or death, but it also puts the safety of innocent road users in jeopardy, and the law-abiding public should not have to share the roads with people who choose to behave in this way.
"We warn anyone else who may be thinking of repeating this or performing a similar type of incident that these matters are taken seriously and will be investigated."
The footage was posted less than two weeks after two men handed themselves into police over another alleged car-surfing incident in Tauranga.
The pair, both 24, contacted police following outrage over a video showing a man car-surfing.
It showed him going through a roundabout, around bends and travelling over a small hill while clinging on to the moving vehicle.