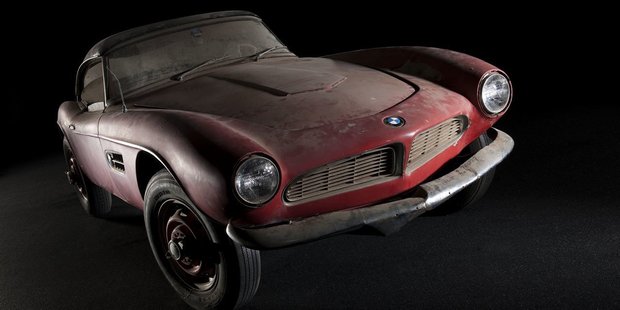 Last week we brought you the story of Elvis Presley's Cadillac being on sale on eBbay, complete with King-inflicted bullet hole. This week we have news of another Elvis car - the gorgeous 1957 BMW 507 roadster he drove while in Germany with the US Army.
The 507 is a rare-enough car - only 254 were made.
Elvis' car is even more desirable because it was originally a press car, was displayed at the Frankfurt motorshow and was raced by Hans Stuck.
It was originally white, but Elvis allegedly had it repainted red after he got sick of women leaving their phone numbers on the car in lipstick (The Good Oil can sympathise as we get messages left on the cars we drive all the time. Only not in lipstick and usually quite angry.)
After Elvis left Germany, the car was neglected for a long time, but sheltered from the elements. Now it is to go on display in the BMW Museum in Munich until August 10, when it will go to the BMW Group Classic Department for full restoration.
That's expected to take around two years. Then the pretty little 507 will be fit for a king again.
We are the world
• Joseph H. Carl was driving home from a bar in Gainesville, Florida, last week when he ran into the back of a car stopped at a red light. This enraged Carl, who got out of his pickup and started hammering on the windows of the car, yelling abuse. This caused the car driver to speed off. Unfortunately for Carl, this freed his pickup to run him over. Police arrived and unsurprisingly found him to be three times over the legal blood-alcohol limit and arrested him.
• Former Alaska governor and US vice-presidential candidate Sarah Palin was stopped by police for speeding recently. Her excuse? Rocker Sammy Hagar's I Can't Drive 55 had just come on the radio. We know how she feels.
Up, up and away in zeppelin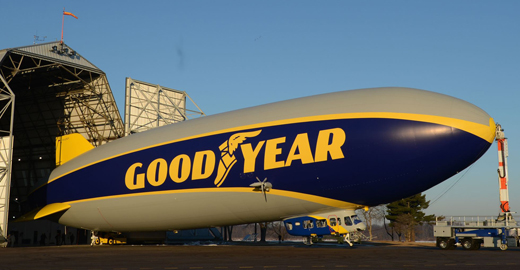 Four months ago Goodyear unveiled its latest blimp, although technically it isn't a blimp.
It is a semi-rigid airship, which makes it a zeppelin.
It has just been revealed that the aircraft (can we settle on that?) has a name - Wingfoot One.
The odd name derives from Wingfoot Lake in Suffield, Ohio, where Goodyear's blimp hangar is located.
It was the result of a contest held to name one of the world's most famous advertising hoardings and submitted by 76-year-old Charlotte White of Akron, Ohio.
Her prize? A day of activities with Wingfoot One, including a ride in it. "Seventy-six years of living in Akron and I never got to ride on the blimp," White told US website jalopnik.com. "I never thought it could happen. I can't wait to ride it."
More than 15,000 names were submitted and the airship (is that better?) will be officially christened next month.
Hey Darth, may the torque be with you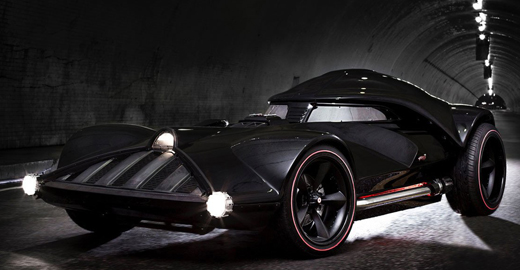 Menace on wheels ... the Darth Vader Hot Wheels car is powered by a hot V8.
Star Wars is one of the hottest merchandising properties around after the announcement of a new round of sequels, so the tie-up with Mattel and Hot Wheels is possibly the best cross-promotion yet.
Because Darth Vader is the coolest character in the franchise, it makes sense that the Darth Vader Hot Wheels car is the coolest one. That is possibly why Hot Wheels chose to make it real.
Revealed at the San Diego geek gathering known as Comic-Con, the machine is based on a Chevrolet Corvette with a tuned LS3 V8 pumping out 392kW and a menacing backlit side-exhaust system.
Dunno if a car shaped like his head is the sort of thing Darth Vader would drive, but we reckon a 392kW V8 would be right up his street.
And when this baby hits 88mph, it'll charge you up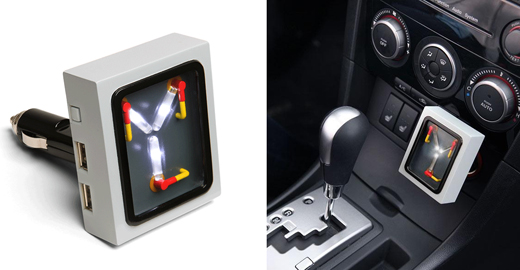 The Flux Capacitor puts on a light show while it charges your USB devices.
Every year the repository of awesome stuff - www.thinkgeek.com - announces a few new "products" as April Fool's jokes. And every year the demand is so great that one or two of them actually get made.
This year is possibly the best yet: a real Flux Capacitor, the time circuit that makes Marty McFly's time travel possible in the Back to the Future movies!
Well, sort of. This Flux Capacitor can't actually send you back in time but it can charge two USB-charging devices and look utterly awesome while it does it.
The website listing says: "Each Flux Capacitor Car Charger has two USB ports, each capable of charging almost any USB powered device (it pumps out 2.1 amps). But it also has that beautiful Flux Capacitor light sequence we all know and love. Even traffic jams (either terrestrial or aerial (if your car is powered by Mr. Fusion)), won't bother you because your device will be charging and the Flux Capacitor Car Charger's pulse will make you feel more important than anyone else. It's time to write your name in your underwear, Calvin, and get yourself a Flux Capacitor Car Charger in the present (so you can enjoy it in the future)."
Extra points for the excessive use of brackets in that description, but The Good Oil really, REALLY wants one of these things.
Number Crunching
5 CARS
Counting Darth Vader, five official full-size Hot Wheels cars exist: Twin Mill, Deora II, Bone Shaker and Whatta Drag
41 MILLION
The number of kids Mattel estimates grew up playing with Hot Wheels cars
72,000 US DOLLARS
The highest known sum paid for a Hot Wheels car - a VW Beach Bomb prototype. Only 25 were made
10 YEARS
The length of time the Hot Wheels live-action movie has been in development. It will no doubt be as awful as Need For Speed