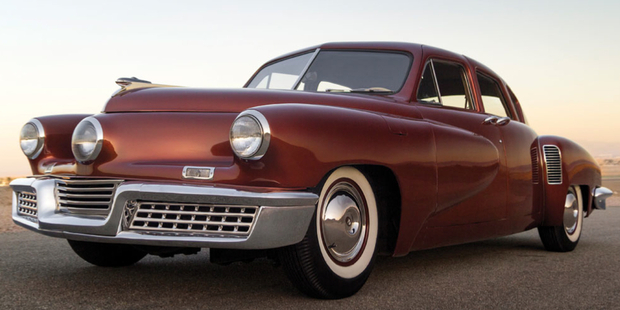 If you're a fan of the underdog and have a couple of million dollars handy, the upcoming RM Auctions sale at Monterey may be of interest.
The star of the show will be a 1948 Tucker 48 -- one of only 51 ever built.
One of the world's most famous automotive hard-luck stories, the Tucker was an advanced car created at the end of World War II.
• Read more Mercedes drives from Africa to the UK without refueling
The Tucker Car Corporation and its 48 shook up the car industry, but became the target of bad publicity, an investigation for stock market fraud (the company was eventually cleared) and alleged political interference from the Big Three (Ford, Chrysler and GM) and Michigan senator Homer S. Ferguson.
All contributed to Tucker's eventual failure.
The 48 is expected to easily pass US$1 million ($1.14 million). One sold in 2010 for US$1.13 million and another in 2012 for US$2.9 million.
If you were to buy the Tucker, you'd be in famous company: film-makers George Lucas (he had two, but sold one) and Francis Ford Coppola. They produced and directed the 1988 movie Tucker: The Man and His Dream starring Jeff Bridges.
Love it when a plan comes together
Do you love '80s action television series, racing games and own an Xbox One? If you're on that part of the nerd spectrum, you're in for a treat.
The Hot Wheels car pack for Xbox One racing game Forza Motorsport 5 features a particularly cool addition. Among the Ferraris, Lamborghinis, F1 cars and alongside a 1973 XB Ford Falcon GT is nestled the 1983 GMC Vandura G-1500.
A van? In a racing game? Why?
Because the A-Team drove around in a customised GMC Vandura in their heyday.
If you have always wanted to be B.A. Baracus, grab the add-on and start yelling about fools and suckers to your heart's content. Cheaper than mortgaging the house to buy gold chains.
• Read more Electronic Stability Control to be mandatory on all NZ new cars
The star-spangled Wrangler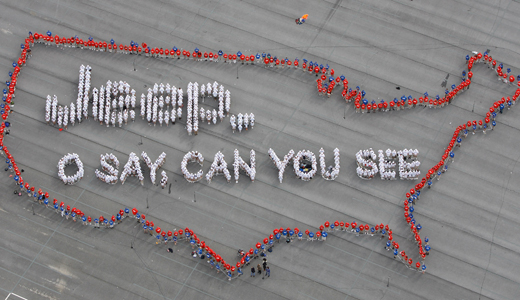 Yee-haw Cletus, break out the moonshine and fireworks - Jeep has again been named the most patriotic brand in the US.
The Brand Keys marketing company survey asks thousands of people to rate companies on 35 different values, patriotism being one.
Jeep topped the survey last year and continued to wave the Star-Spangled Banner harder and higher than anyone else again this year.
Other US carmakers fared less well, with General Motors dropping out of the Top 25 after rating 21st last year. Jeep's parent and stablemates - Chrysler and Dodge - again failed to rate. Ford moved up to tie with Harley-Davidson and Ralph Lauren at 11.
The only other company that produces something with wheels and an engine is John Deere at 15.
Tech companies such as eBay, Facebook, Google, Amazon and Apple all appeared in the Top 25 for the first time. Which raises the obvious question - if a car company is No1 and the techies are rising fast, where is Tesla? Maybe even patriotic Americans share The Good Oil's suspicion that owner Elon Musk is secretly a James Bond-esque super-villain who will attempt to blow up the moon or something like that ...

The road goes on before you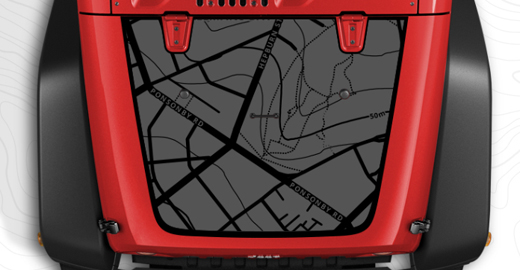 Staying with things Jeep-ish, the company now offers an option that possibly explains why it is considered so patriotic.
In the US, owners can have a custom-printed bonnet decal that shows a topographical map of their favourite off-road area. Or any area.
So-inclined Jeep owners can go to www.3mskins.com/jeephooddecal and choose from a selection of famous US off-road tracks, such as the Rubicon Trail (as seen on the bonnet of the white Grand Cherokee) or select any area on a world map that takes their fancy.
Although The Good Oil is not sure the one we stuck on the red Wrangler is quite what they had in mind.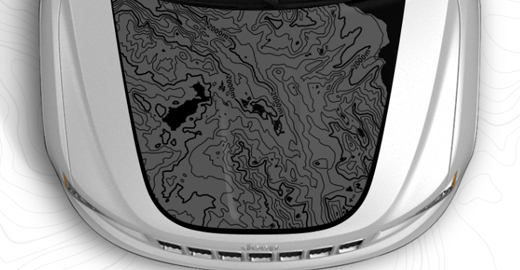 We are the world
•Some people shouldn't drive. Or have dogs. When Georgia state police asked 60-year-old Wesley Terrell why his dog was locked inside his car on a blisteringly hot day, he gave possibly the worst answer imaginable - "Don't ask me. He drove here." Terrell was charged with animal cruelty and, surprise, drink-driving.
•Chinese police got more ... well no, less ... than they bargained for when they pulled over a man recently. They discovered Wo Guo was missing both arms but was driving his unmodified Citroen. Police say he was using his left foot to steer and his right foot to brake and accelerate. Yes, it was an automatic and, yes, he had no licence. He has since been banned from driving.
8 OWNERS
Jeep has passed through a few corporate hands - Willys-Overland, Kaiser-Jeep, AMC, Renault, Chrysler, DaimlerChrysler, Chrysler LLC, Fiat Chrysler Automobiles.
49 PER CENT
Renault once owned the majority of American Motors Corporation (AMC) stock, keeping the company from bankruptcy and sinking Jeep completely.
1ASSASSINATION
In 1986 Renault CEO Georges Besse was assassinated, prompting his board to sell AMC to Chrysler.
1 NAMEPLATE
The only brand to survive the Chrysler absorption of AMC was Jeep. The most patriotic brand in the US.