Roofs up or down, these cars rock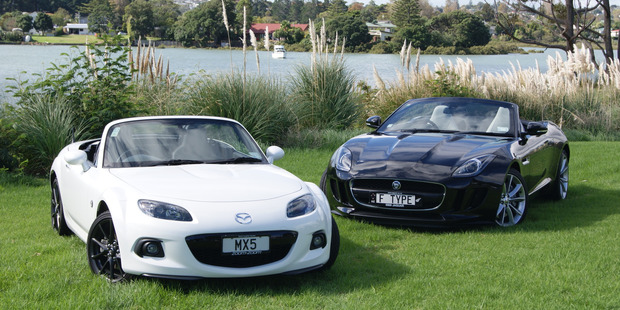 Welcome to another of our semi-regular "half-price hero" features. A quick refresher: the idea of these stories is to identify a really special new vehicle with particular character traits, then try and find something that gives you a similar experience for half the price.
We're not suggesting that the less-expensive vehicle is better, although we'll happily tell you if it is, in any particular way.
Rather, we're just trying to find a half-price car that can deliver a similar experience to the upmarket one in a few crucial comparable areas.
It's a time of the year when we should remember that an open-top car is not just for summer: it can be for life.
Well, as long as that car is not designed solely around its ability to let the warm weather in. It has to be driver-focused enough to transcend the hairdresser jokes and practical/reliable enough to serve as an everyday driver when required. It's not too much to ask.
That's the genius of the Jaguar F-Type. Launched first in roadster form, it offers high style and a true wind-in-the-hair experience. But there's more to it than that: the powertrain and chassis are truly sporting regardless of what position the roof is in, and it's compact and comfortable enough to drive to work and/or park in the city.
The entry-level F-Type V6 is a particularly tempting proposition. At $140,000 it's not outrageous money for a premium sports car and with 250kW/450Nm from its supercharged V6 and 0-100km/h in 5.3 seconds, it's still got plenty of performance. Quick, without losing that nimble nature that's so essential to the sports car experience.
So the F-Type V6 is great value. But $140,000 is still a lot of money. Wouldn't it be great if you could get a taste of that experience for half the money?
Maybe you can, with the $55,190 Mazda MX-5.
The Jaguar's abilities and instant-classic status are already assured: it's been acclaimed from the start as a brilliant car and it has heritage on its side, thanks to something that started with "E" over 50 years ago.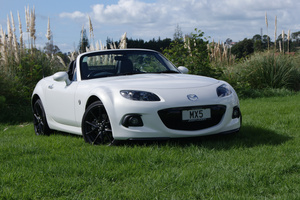 The Mazda does not lack credibility or classic status.
The MX-5, now in its third generation, has been the butt of a few jokes in its time, but it's also been hailed as a proper sports car by those lucky enough to drive it. It's already an icon and celebrates its 25th birthday this year.
Both Jaguar and Mazda boast about the lightweight construction of their rear-drive roadsters. The F-Type is notable for its use of aluminium, while the MX-5 was designed around a "gram strategy" intended to make every single component as light as possible. The Mazda is trim indeed at 1167kg compared with the Jaguar at 1597kg, although with just 118kW/188Nm from its 2.0-litre engine, the MX-5 is a long way off the straight-line performance of even this entry-level F-Type.
Speed is good. But sports cars are not solely about 0-100km/h sprinting. The F-Type is a delight in the corners as well: great steering, a finely balanced chassis and a wonderful sense of composure that pervades the whole driving experience. It is indeed a proper sports car.
But you could argue the MX-5 is even more of a sports machine, thanks to its size (still 500mm shorter than the surprisingly compact Jaguar) and endlessly engaging nature. Some may even find there's too much communication from car to driver in the MX-5: the steering wheel bombards you with information, the chassis dances around on every imperfection in the road and the car revels in every little input.
Both machines are incredibly agile and involving. The difference is that the MX-5 likes to keep you busy, whereas the F-Type is capable of calming down and cruising through corners if that's what you want. The difference is even more pronounced when you have the Mazda in six-speed manual form: you're always working the stubby, short-throw lever (an automatic is optional).
The F-Type's cabin is a bit uneven in terms of styling and quality, but there's no denying the sense of occasion: from the flush door handles that power outwards when you unlock the car, to the air-conditioning vents that rise up to meet you, there's a lot about this car that makes it feel special. The driving position is superb, with the cabin surrounding you in intimate fashion.
That's not necessarily the case in the Mazda's cabin, which is neatly styled and sensibly laid out, but not too different from a contemporary small car. It does have a trick folding hard-top, which looks great, stows in a tiny space and adds less than 40kg to the weight of the car. The Jaguar goes for a more classic soft-top (you can also have the Mazda with one of those if you choose).
Both cars can feasibly serve as day-to-day transport. They are robust, easy to manoeuvre in town and relatively practical -- bearing in mind that they are two-seaters, with very little boot space. With the space-saver spare wheel installed, the F-Type has even less cargo capacity than the MX-5: 148 litres versus 150 for the Japanese car.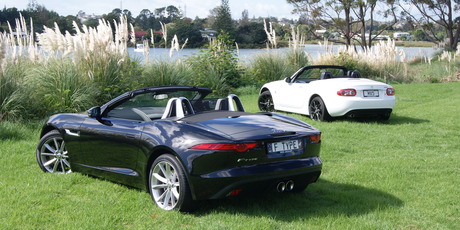 These are both cars that would be equally appealing as coupes and could easily handle an extreme amount of power. Mazda has resisted both for a quarter of a century and is unlikely to change when the all-new MX-5 with SkyActiv technology is launched later this year. It's a purist's sports car and is likely to remain so.
Jaguar is not shy about extending the F-Type range. A coupe version will arrive mid-year and of course there are more powerful V6 and V8 supercharged versions already available.
IS THE MAZDA MX-5 A HALF-PRICE HERO?
Absolutely. The Jaguar proves you can have truly rapid performance with sports-car agility, but nothing beats the Mazda for a sheer sense of fun and involvement. Both are future classics.