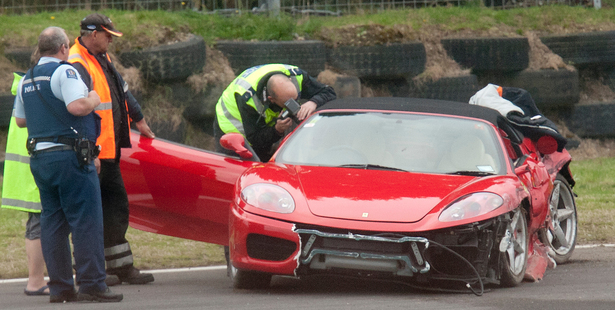 The driver of a Ferrari which crashed at Taupo Motorsport Park this afternoon has died.
He was taking part in the Hawke's Bay Club's annual track day at the time of the crash. A track manager at the park said a vehicle was considerably damaged when it hit the tyre wall at high speed around 1pm today.
The driver - a Hawkes Bay man aged in his 60's - was taken to Taupo Hospital in a critical condition but died later as a result of his injuries, police said.
An 18-year-old male passenger in the Ferrari escaped with minor injuries.
Taupo police Senior Sergeant Fane Troy said the passenger was not the man's son but he declined to say whether they were related.
The Police Serious Crash Investigation Unit was investigating the crash on behalf of the Coroner.
No further information would be released about the man who died until family members have been advised and a formal identification has been carried out.
A spokeswoman for the park said the driver was a regular user of the track. It costs between $1000 and $6000 to book the track for the day, she said.
Hawke's Bay Club members participating in the track day were required to pay $150 to take part and any car was eligible including classic, vintage, sports cars and family saloons.
Participants were required to wear helmets and fireproof apparel. The vehicles must be registered, warranted and mechanically safe and the race cars must comply with Motorsport NZ regulations, the club's website states.
- APNZ