Jacqui Madelin tests a bike that fits the role of tourer and commuter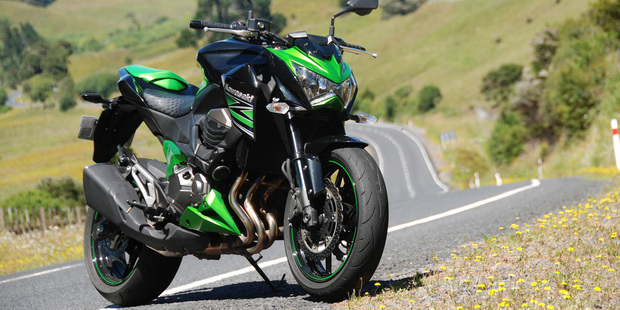 Talk about presence. Kawasaki's Z800 could have wheelied straight off the Transformers set, those radical lines screaming speed and attitude spiced with the suggestion that in a flicker of time it could unfold into a new dimension - as a robotic raptor, or perhaps some coldly glittering mechanical dragonfly.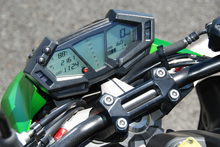 Developed from the smaller Z750 it replaces, it uses the same steel frame in a slimmer profile but increases capacity by 58cc to bulk up power, but especially in the low to mid range where most riders want it, delivered via a six-speed transmission with shorter final gearing and a good spread designed to cover commuting-fun-touring duties.
Swing a leg aboard and it's hard to pin down; it looks and initially feels like a muscle bike, designed to punch its way along a tight set of swervery or hustle through a rapidly-dispatched commute.
It does the latter all right, assisted by impressively compliant suspension for such a radical-looking bike, and a riding position less extreme than those aggressive lines suggest.
But the power delivery from this 806cc liquid-cooled in-line four-cylinder engine and the rear Uni-Trak suspension didn't quite gel on the tight and bumpy tarmac tangle of the roads round home; too far outside that rpm sweet spot to appreciate the engine, and with not enough punch off a closed throttle to tackle tight swervery with the liveliness I'd expected. Meanwhile the suspension felt a touch too firm even with the BottomLink Uni-trak rear rebound and preload adjust fettled to suit this rider, and though control was never compromised, the overly-perky response to lumps and bumps felt a tad unsettling.
Clearly I'd not found the Kwaka's home territory, and it was time to pull out the map.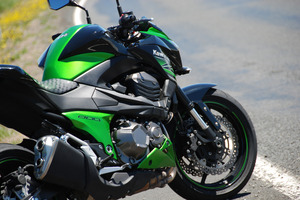 It was worth it to discover a more open stretch of bends played to the Z800's strengths, letting you frisk about the 8000rpm range that allows this engine to give of its best, pouring on the 83Nm of torque and climbing to its 83kW power peak 3200rpm later.
The model change trimmed a bit of weight, but at 229kg wet it's clear this isn't a pure sports bike, though it may be that heft which imparts a reassuringly solid feel, the suspension now keeping rubber stuck to road as you pour on the power, climbing over the humped tank to flick it left, right, left, an occasional skip from the rear tyre never more than a brief reminder this is a real world road and not a race track, the engine howling a happy hunting song as you pursue the next set of bends.
Don't get me wrong, this is not a track bike.
It's a performance-oriented engine in a nimble package, without the hair-trigger reflexes, and with the bonus of a seat-to-bars-to pegs relationship that delivers that hard-to-get combo of good control through the bendy bits and reasonable comfort round town - despite a seat squab that's thinner than an after-dinner mint.
Kawasaki does pay lip service to everyday users - there is a pillion seat, though not one designed to encourage passengers to try it a second time around - and even lugs to strap your seat bag to.
Needless to say the $15,995 Z800 looks great. Four pipes snake from the engine back to twin outlets from one triangular muffler with a profile penned to suggest extreme cornering angles.
The three-screen digital dash includes a clock and fuel remaining, though was hard to read at some sun angles.
Oh, and the mirrors aren't too helpful round town. As for the "eco indicator", it's surely a joke given the bike's focus and the fact it's most at home carving up 55 and 65km/h swervery at 100 with the throttle held wide open.