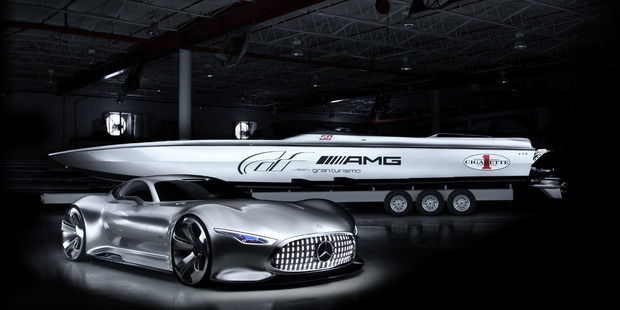 Mercedes-Benz and Cigarette Racing have something of a history together, with the latter producing a number of drool-worthy Cigarette boats inspired by the former's AMG cars.
So it should come as no surprise to see a new AMG-inspired boat appear from Cigarette Racing at the Miami International Boat Show. But this time there is a twist; it is inspired by a car that can only be driven in a virtual sense.
That's right the Cigarette Racing 50' Vision GT Concept is inspired by the Mercedes-Benz AMG Vision Gran Turismo which was created exclusively for the 15th anniversary of the popular Gran Turismo series of games on the PlayStation, as well as the release of the latest incarnation of the game - Gran Turismo 6.
The first of a series of Vision Gran Turismo concept cars from a number of manufacturers and designers, the AMG Vision Gran Turismo boasts a virtual 430kW/800Nm V8 driving the rear wheels. In the game, that is; the actual model revealed at the LA motor show a while back doesn't actually have an engine ...
The boat, however, has it all over the car. Both in the sense that it is actually real and in the sense that it has actual real engines. Two of them, in fact. Two 9.0-litre V8 1230kW Mercury 1650 outboard race engines ... What's that AMG? No, you most definitely ARE a bunch of girls in comparison ...
The two huge Mercurys will push the 50-foot (15.25m) long, 8-foot (2.43m) wide boat to a terrifying top speed of "more than 140mph" (225km/h). And, again, unlike the Mercedes-Benz AMG Vision Gran Turismo, you can actually buy the one-of-a-kind boat. For a cool US$1.5 million ($1.81 million).

Are you gonna eat that?
You can count on Texas for good ideas. After all, the Lone Star State did give us one of the great thinkers of this century: George W. Bush, a man everyone misunderestimated.
Now, following up with some mighty fine thinkin' of his own, 72-year-old Republican
candidate Tink Nathan has come out in opposition to the ridiculous law that makes it a
misdemeanour to collect roadkill in Texas.
Nathan is running for a seat in the Texas House of Representatives and says that the thing that sets him apart from the other candidates is that he wants all of the citizens of Texas to be free to gather all the dead animals they want off the side of the road. After all, it's legal in other states.
In a statement of pure bewilderment (and we are guessing barely contained laughter) a
spokesman for the Texas Parks and Wildlife Department, Tom Harvey, said that the agency responsible for regulating roadkill had ''no stance on the matter'', but went on to add that: ''There are obvious public health and safety issues.'' Now there's a man who should run for office.

We are the world
*Among the many things that Chinese authorities ban searches for on what passes for the internet over there is (occasionally) Ferrari. Why?
It seems that the Italian marque has become the symbol for wealthy young Chinese who use their parents' privileges in the Communist elite to afford luxuries.
When one of the young ''princelings'' (as they are called) does something silly in a Ferrari
(like wiping himself out) and it starts to trend on social media, the authorities quietly block searches for ''Ferrari''.
*While reindeer are well known as Santa's favourite mode of transport, they are less known for their road-smarts. That is because like most large ungulates, they don't have
any.
They are also big, ill-tempered and have antlers, so drivers in Finland are, understandably, sick and tired of hitting them with their cars at night.
That is why the Finnish Reindeer Herders Association (yes, there is such an organisation) has started a trial where it is painting the reindeer's antlers with a special reflective paint which glows when lights hit it at night. It seems Rudolph isn't quite so special
anymore.
Concept, meet reality
Remember when Subaru unveiled that utterly awesome WRX concept at last year's New York auto show and then promptly gave us the decidedly less exciting production version? We remember.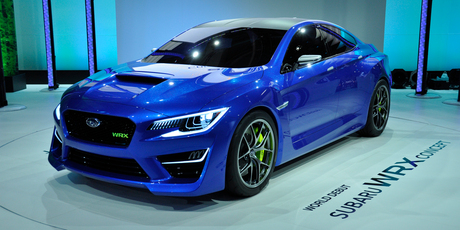 However, for those of you that feel like us, there is hope: British designer Michael
Bond is saying he will be able to change all that, providing he gets enough people to
sign up. Bond says he will be designing a kit that will transform a new WRX into something closer to the 2013 concept.
With a new front bumper and grilles, and a redesigned bootlid, the WRX Concept 13 (as it is being called) will also most likely feature a redesigned rear diffuser to compensate for the removal of the production car's rear wing to make it look more like the concept.
So far there is no word on how (or even if) Bond will replicate the aggressively flared rear guards of the 2013 concept, but given they stretch into the rear doors the answer will most likely be ''he won't''.
Bond says that once he gets 50 confirmed orders, he will order a new WRX and begin the process of creating the new bodywork. If you are keen, head over to www.rumbler.co.uk and leave your details.
Putting twit into Twitter
While The Good Oil doesn't like to pour scorn on any motorsport fan, the biggest news that came out of last weekend's Daytona 500 does say quite a lot about the intelligence of your average Nascar fan ...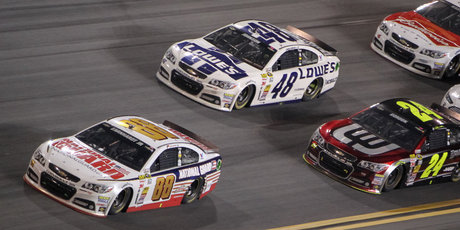 It seems that the race was delayed for quite some time by bad weather, so broadcaster Fox decided to run a replay of last year's race. Apparently quite a lot of fans proved incapable of reading the ticker at the bottom of the screen telling them it was a replay and the Twittersphere was swamped with excited fans tweeting the action from the year-old race ...
But that's not all. It seems that sports channel ESPN was also caught up in the excitement, firing off a number of excited congratulatory tweets to Danica Patrick for her
highest finish of any woman at the Daytona 500. Which, of course, she did last year. Yet no one at the ''sports'' channel picked up on this remarkable coincidence.
But, as embarrassing as that is for a sports channel, it seems there is one channel that is even dumber than ESPN: Fox News also got taken in and reported that last year's winner Jimmie Johnson had won the race for the second year in a row. Even though it was Fox that was broadcasting the replay. For the record, Dale Earnhardt Jr won the much-delayed race when it was eventually held.
Number Crunching
19 YEARS The number of times Dale Earnhardt Sr competed in the Daytona 500 before his first win.
4 YEARS The number of times Dale Earnhardt Jr competed in the Daytona 500 before first win.
9 YEARS The number of times Junior competed between the first win and second win.
11 YEARS At 39, Junior, has a while to catch up with oldest Daytona 500 winner, Bobby Allison, 50.