Honda's new machine is comfortable and competent, writes Jacqui Madelin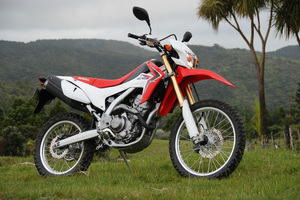 Honda's CRF is usually associated with hard-core high-speed bush-bashing, or mad motocrossers soaring from jumps and spearing round berms in a cloud of dirt, on bikes ridden by madmen and women who live off high speed and danger.
It's an image Honda no doubt deliberately cultivated for this far more housetrained machine, and one it took a few kays to shake off. A few commuter kays, for this CRF250L is road registered - a commuter-trailie aimed at someone seeking a tractable entry-level adventure bike, or something they can ride to work or school Friday, and out on the trail Saturday.
And that means though it resembles its more exciting 250X and R stablemates, the relationship pretty much stops there.
The 249cc four-stroke single-cylinder fuel-injected engine shares internals with the CBR250c donk, with the detuned CRF-L aimed at smooth delivery at low and medium revs, transmitted via six gears designed to cover a broad range from trail to open-road riding.
Power builds steadily through the 22Nm, 7000rpm torque peak on up to 17kW at 8500rpm, a total that proved a tad underwhelming given this bike's 144kg kerb weight, heavy for an off-roader.
Still, it's brisk enough to hold its own in traffic and cruise comfortably at open road speeds, and sufficiently tractable to suit the occasional trail rider, though experienced folk fond of steep hills and soft sand may not feel the performance trade-off is worth the lower price and the ability to take to the seal. And they will find first gear a tad too tall for the tight stuff.
The L sports disc brakes front and rear - with a wave design again intended to recall the hard-core CRF250R racer - and like the rest of the bike the Showa fork up front and Pro-Link rear suspension are a compromise between on- and off-road requirements and price.
That compromise makes itself felt at higher speed over rough ground, or while traversing harder lumps and bumps when the rear will tend to pogo.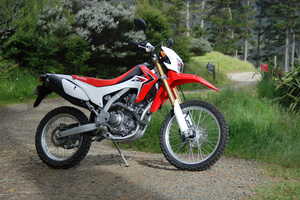 That said, like me this bike's buyer is unlikely to tackle fallen logs, gnarly jumps and vertical climbs, and the set-up worked reasonably well over rolling farmland and on the commute out from town, and very well on an extended gravel-road jaunt when the bike's sweet balance, relatively low 875mm seat height, and a set-up that felt as comfortable in a seated or standing position came into its own.
Wind on the throttle and there's just enough power to cut the rear loose if you want to, but not so much a novice will do so accidentally, and soon I was tackling the loose surfaces of some local forestry roads at the same pace as the tarmac that got me there; indeed I enjoyed the gravel so much I also ended up proving the seat's comfy for an hour or three in the saddle, not a given on any trail bike when a rider will more usually be standing.
The 250L's trail focus means there are few extras (the hand guards fitted to the test bike are aftermarket dealer-fit at about $100), and instrumentation is basic, with a twin trip adventure riders following tulip diagrams will appreciate, and a clock and fuel meter commuters will like. They'll also approve the cargo hooks when strapping a workday bag aboard. That small detail is one of the giveaways this CRF won't be entering an enduro or MX event any time soon, but at $8999 it's considerably cheaper than its high-performance siblings, much better suited to a shorter or less aggressive rider, and it'll be far more useful every day.
Honda's CRF250L may be a sheep in wolf's clothing, but I know which one I'd rather have round the house when it's time to find a fun route to work.