SUV-chomping RS4 and RS6 Avant updates served roar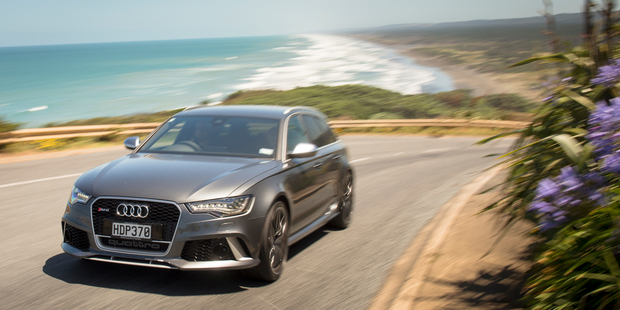 Kiwis used to love their station wagons. The roads were full of them - especially in holiday season - but they've become rarer by the year.
The humble wagon hasn't really held on to its place in the market - that gap's been usurped by an endless parade of softroaders and other small-to-medium SUVs - the wagon train of the new millennium, if you will.
Audi has stuck to its guns and elected to only bring in wagon versions of its fiery RS4 and RS6 - although it's definitely hedging its bets with a full range of the aforementioned SUVs as well.
Sure, some of these crossover 4x4s are good vehicles - but stick them next to either of the RSs, and there's absolutely no comparison.
With its freshly launched RS6 Avant, Audi has polished one if its sharpest swords for the hard-fought German performance arms race.
The Avant, easily the best yet, is taking the scrap to Mercedes-Benz and BMW with a Quattro-toting beast that can hit the legal limit in under four seconds.
Traditionally, I have favoured the RS4 over its big brother, purely because it felt more RS than the larger vehicle. This year, it's a very different story. The RS4 is still a monster, but the RS6 will devour it in one bite - and it's a seriously good looker, and not just "for a wagon".
Big guards, gloss black grille, aluminium accents, a yawning front end to swallow huge amounts of air needed to feed and cool its twin-turbo V8 and the spoiler stretching the already sloping roofline are a good start, but sitting it rock-steady on the massive 21-inch rims is the master stroke.
These cars are going up against the M cars and AMG's finest, and as with both the BMW and Mercedes machinery, buyers without brand loyalty after something a bit special with jaw-dropping performance potential are left with a tough choice. We're fortunate enough to pedal a lot of this high-end product, and it's getting increasingly tough to make a decision on which of the big three is the one to buy.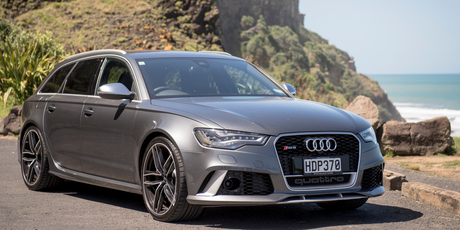 Audi's point of difference in this arena comes down to the fact that the range is all-wagon and that both sit on the highly advanced Quattro all-wheel-drive system. With the sort of power that the Germans are putting under their bonnets these days, unless you're comfortable with a bit of opposite lock, the sure-footed Quattro makes for a reasonably usable percentage of the RS6's 412kW, not to mention the bucketload of torque (700Nm) that appears from just 1750rpm.
These numbers are impressive, but it's when locked into the gorgeous quilted leather race seats and the car's set to dynamic mode that the reality of these figures comes to the fore. Clicking the slick eight-speed tiptronic over into manual-shifting mode, pushing the happy pedal and letting that serve of torque send the wagon into the ether is a rapid but very calm ride. There's no hint of wheelspin, even on a damp track, and it sticks to corners like only Quattro can, adding torque vectoring to even further reduce the old all-wheel bugbear of understeer.
Air suspension, which is adjusted via a driving dynamics option, even allows for a 20mm lift to get that huge carbon-adorned front over difficult curbs and judder bars that some traffic engineers seem intent on placing every 20 metres in the suburbs. Another push of the button and the body settles back down on the massive rims and is better suited to the chicanes that the remainder of the traffic boffins favour. With this much grip and this much power, the chicanes are certainly the best bet, even with the clever suspension.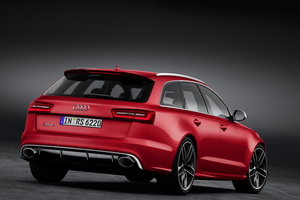 Developing this sort of grunt usually takes an alarming amount of time at service stations, but the 4.0 TFSI engine is capable of less than 10L/100km - although this number wasn't seen during our short but satisfying time with the car, it landed closer to 17L with a combo of town and country testing.
Audi reckons its turbo and manifold set-up is a big contributor to this small consumption figure - both of the big turbos and the intercooler are tucked in the engine's V. The heads have the exhaust side on the inside of each bank and the intake on the outside, which means shorter flow and, theory dictates, less loss. There's also cylinder shutdown tech fitted, which means that the rorty V8 drops half of its capacity and uses less gas. If driven very mildly, the chances of meeting those fuel use figures are pretty high. Driving mildly, though, is incredibly difficult when the rumble rises to a roar, the exhaust shutters open and the surrounding real estate turns to a blur.
But if you're ready to part with $198,000 for what is essentially a daily driver that can misbehave at supercar levels when it wants to, fuel consumption is probably a little way down the "must haves" list.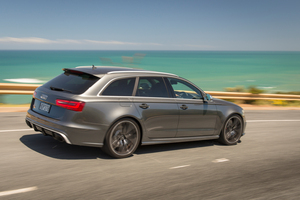 The inside is all you'd expect from one of Audi's flagship models, with big front seats that are adjustable from scrawny to oversized and a blacked out instrument cluster with white dials and a digital shift light. There's readouts for boost, oil pressure and the much-needed digital readout to show just how far past the 4km/h "tolerance" you are.
Picking from the toyboxes of the Teutonic trio is not an easy task, but if you're partial to a bit of backroad bravado, need to fit a reasonable amount of gear in your car, favour quattro over psycho and don't mind getting on the piste in winter, then Audi's best RS6 yet is already a front-runner.