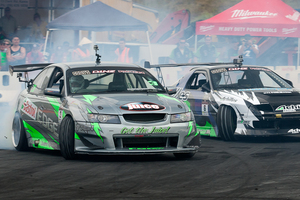 It's anyone's game as the country's top drifters gear up for the opening round of this season's Cody's D1NZ National Drifting Championship at Hampton Downs over the November 16-17 weekend.
Whangarei's Daniel ''Fanga Dan'' Woolhouse (Castrol Edge Holden Commodore V8) won the title last season but it was a close-run thing and series CEO Brendon White reckons it will be the same this year.
''It's the nature of the beast,'' says White.
''The depth in the D1 category is now so great there are at least 10 drivers vying for a place on the podium and five or six in with a real chance of standing on the top step.''
In that 10 are former series champions Curt Whittaker (Autosure Warranties 2JZ Nissan R34 Skyline) and Gary ''Gaz'' Whiter (Tectaloy Nissan S14 V8), and Auckland-based
international ''Mad Mike'' Whiddett (Red Bull/Speedhunters Mazda RX7/8).
This year's D1 field is again oversubscribed with 34 drivers set to battle for the 32 qualifying spots.
Returning, this time for a full season, is V8 Supercar and SuperTourer ace Shane van
Gisbergen who will again share the wild Federal Tyres-backed V8-powered Ford Falcon, ''the Rattla'', with owner Shane Allen from Waiuku.
The Pro-Am class is also well-supported this season with 28 drivers registered.
For more information and to buy tickets go to the Cody's D1NZ series Facebook page at
www.facebook.com/D1NZOFFICIAL