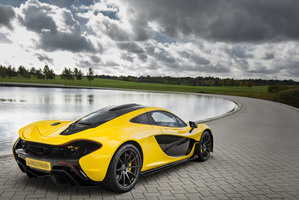 McLaren have confirmed the performance figures for their latest P1 hypercar.
The figures reveal the P1 will rocket from a standstill to 100km/h in 2.8 seconds, 200km/h in 6.8 seconds and 300km/h in 16.5 seconds. To put it in perspective, the old but legendary McLaren F1 is 5.5 seconds slower to 300km/h.
Place the P1 on a dragstrip and 9.8 seconds later, it would reach the 400 metre mark at 245km/h. While flat out, the P1 reaches an electronically limited top speed of 350km/h, fast doesn't even begin to cover it.
When it comes to bringing all that power to a halt, the P1 brakes almost as fast as it accelerates, taking 2.9 seconds to stop from 100km/h and 6.2 seconds from 300km/h. This is down to the latest generation carbon ceramic discs made in conjunction with the bespoke Akebono system.
Despite these insane performance figures from the combination of the 3.8-liter twin turbo V8 and electric motor producing 673kW, the P1 still returns a combined fuel figure of 8.3l/100km.
With the first production P1, in volcano yellow, rolling off the production line in late September, McLaren plan to make 375 examples of the P1 with production forecast to conclude in mid 2015.