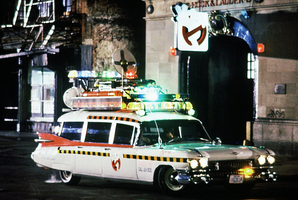 Remember awhile back when The Good Oil brought you news of the sale of the cars from the television series Breaking Bad and recounted the sad fate of a number of famous movie/TV cars as a reason for you to buy them?
Well now it seems another of those ill-fated cars may well be looking at having a happy Hollywood ending after all.
While ECTO-1, the car from the first Ghostbusters movie, eventually had a happy ending - it was fully restored after being neglected on a Sony Pictures backlot for years - the same cannot be said of ECTO-1a, the upgraded car from the second movie.
Both Ghostbuster cars were based on the glorious 1959 Cadillac Miller-Meteor ambulance and ECTO-1a was used for a number of years as a display car at Universal Studios in Florida until it was crashed into a parked vehicle while being moved.
It was parked up for a number of years and slowly deteriorated - as well as being stripped by souvenir hunters - until 2007 when a restoration project was started on ECTO-1 and ECTO-1a.
Unfortunately the restoration budget was cut and only ECTO-1 was completed, with 1a being left stripped and ready for restoration at Sony's prop warehouse. Not surprisingly, the vehicle continued to deteriorate.
Now a group of fans have stepped up and started a petition to get Sony to sell them the car at scrap value (which is, rather amazingly, said to be what Sony is considering doing with the car as opposed to restoring it) so that they can raise the funds to restore it.
If they can convince Sony to sell them the car, the group plans to set up a funding campaign on Kickstarter.
We are the world
*A newly-married German couple got their marriage off to possibly the worst start ever when the groom drove off and left his new bride at a petrol station for two hours. Yes, that's right, it took the gormless groom two hours of driving before he noticed his wife was missing after she had left their van to use the toilet at the service station while he refuelled it. ''My first reaction was; is he stupid?'' the bride is quoted as saying in an interview with a local radio station. Hey, you married him, love ...
*A woman in Montana, US, was charged with drink driving when she was found to be four times over the limit _ after she called 911 because she couldn't get out of her car. When the operator asked 55-year-old Carole Omeara if she was stuck because of medical or mechanical reasons, she replied: ''No, I'm just too damn drunk.''
Where's the knock-off stupid? No longer down in Florida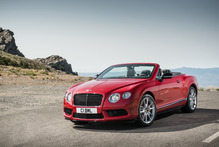 While replica car re-bodies have been around pretty much forever - how many innocent Pontiac Fieros have been butchered into ''Ferraris'' over the years? A judge in Florida recently ruled companies that re-body cars to look like other cars are illegal and infringe on patents and trademarks.
This came about due to a Florida company, Fugazzi Cars, essentially doing the world a big favour by re-bodying the hideous Chrysler Sebring convertible as a more attractive Bentley Continental convertible.
Unfortunately, rather than badging the cars as, I dunno, anything other than Bentley, Fugazzi actually used Bentley badges on the FWD knock-offs.
Unsurprisingly, this annoyed Bentley somewhat and led to the company suing Fugazzi owner Matthew McEntegart and another company, the wonderfully (and, we can only assume, ironically) named Keeping It Real Auto Customizing, in the US District Court.
Here is where it gets really good though: McEntegart's defence is basically to plead stupidity.
He claims he didn't know that building fibreglass knock-offs of Bentleys and badging them as Bentleys was wrong. He also claimed that because he didn't take a mould of a Continental, then it was all above board and, like, cool `n stuff. The judge didn't buy this, however, and found in Bentley's favour.
When size really doesn't matter
After proving their trucks had feather-light steering by getting a hamster to drive one through a quarry (by running around a wheel attached to the steering wheel after a carrot controlled by a human driver), Volvo have set out to prove the manoeuvrability of their trucks by ... driving as fast as possible through the narrow streets of a Spanish village while being chased by a bunch of bulls and bull runners. It's the obvious thing to do, really ... in a video (head to the Volvo Trucks YouTube page to find it), a Volvo FL is chased by bulls in a race through the medieval Spanish town of Ciudad Rodrigo. ''It's incredible you can get a truck this size through a town this small,'' precision driver Rob Hunt is quoted as saying in the press release. Volvo Trucks aim was to show how easy it is to manoeuvre its new 12-tonne truck in a demanding urban environment by giving Hunt the task of driving a two kilometre course through the congested streets of Ciudad Rodrigo - while being chased by a herd of bulls with a bunch of idiots (I mean ''professional bull runners'') ahead of them.
According to the video, no trucks were hurt during the making of the film and the bulls all retired to a farm. No mention was made of how many idiots (I mean ''professional bull runners'') were hurt, but then who cares? If you are stupid enough to purposely get in the way of an angry bull, then you deserve what you get ...
One quick boat
Pictures / Maurice Volmeyer, Fotografie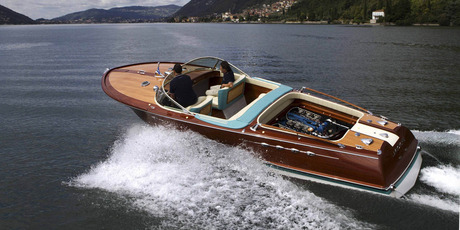 Legendary sports car manufacturer Ferruccio Lamborghini was not a man who ever let the phrase ''we don't actually make that, sir'' hold him back. After all, this was the man who started a car company just because Ferrari's after-sales customer service was a bit crap.
So it makes sense that, when he decided to buy a boat, your plain, everyday off-the-shelf job just wasn't going to cut it. Instead he contacted boat-maker Riva to build him a custom version of their Aquarama model. Well, he did - and what a custom version it was ...
Powered by not one, but two of Lamborghini's magnificent 4.0-litre V12 engines taken from the equally magnificent first Lamborghini - the 350 GT - the Riva Aquarama Lamborghini was the fastest and rarest Aquarama ever made.
That is, until it disappeared after Lamborghini's death in 1993, following a heart attack.
It was known of in enthusiast circles, but no one had seen it for years until an anonymous Dutch Riva collector tracked it down, obtained then fully restored it.
The project took three years to complete and included many trips to the Ferruccio Lamborghini Museum by Sandro Zani, owner of Riva World, a renowned restorer of Riva boats.
One of the original engines from the Aquarama Lamborghini is on display at the museum and, unsurprisingly, Lamborghini were unwilling to part with it. They did, however, allow Zani's team to disassemble the engine in order to recreate various parts.
Legendary Kiwi and former Lamborghini test driver Bob Wallace also helped out with input in recreating the original engines and their conversion for maritime use before his death a few months ago.
The result is two wonderful-sounding Lamborghini V12s, each with 260kW and equipped with six twin Weber carburettors. With a rev range between 700 and 5000rpm and torque output available from 1500rpm, the Riva Aquarama Lamborghini has a top speed of 48 knots (89km/h), compared to 40 knots (74km/h) for regular Aquaramas that Riva fits with twin V8 units as standard equipment.
Number Crunching
89 km/h The top speed of the twin Lamborghini V12-powered Riva Aquarama.
149.4 km/h The first official water speed record, set in 1923 by powerboat racer Gar Wood.
511km/h The current water speed record, set in 1978 by Australian Ken Warby. It remains unbroken today.
85 per cent The unofficial fatality rate of water speed record attempts. Which could explain why Warby's record still stands ...