This is a sequel that won't disappoint - better looking, better performance, better everything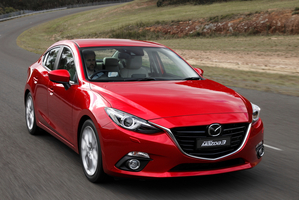 Sequels, as we're all aware, are often disappointing - and there's always significantly more pressure to excel if the first act was a good one.
The car world is especially difficult when it comes to improving on a vehicle that has won a large number of fans. And when it's a car that has been as enthusiastically accepted across so many demographics as the Mazda3 has, the heat is most certainly on.
The hatchback and sedan versions of the Mazda3 are driven in almost every walk of life and there aren't too many carparks that don't feature either the local spec designed for our roads or Japanese imports - and, no matter where they hail from, they're almost universally loved by their owners.
But change is necessary in the hard-fought segment home to this versatile beast and, if change isn't up to the exacting standards of owners, it's going to be a fizzer of America's Cup proportions.
With more vehicles from almost all manufacturers crowding into this sector, trying to keep a successful model without somebody else releasing something better usually takes more than a facelift or a simple spit and polish.
Buyers' demands can border on unreasonable - our expectations are serious amounts of technology, better looks, better handling, more room, better fuel economy and, more often than not, a better price.
Cars are like smartphones, in our lives every day, and when it's time to upgrade we want the latest and greatest.
Mazda's grand challenge to recreate its winning 3 formula - one that was good enough in the first place to become Australia's biggest selling car without actually being a big car - was never going to be simple. It needed to reflect the new family design language already seen on the excellent CX-5 and on the Mazda6 sedan, as well as integrating the company's SkyActiv technologies that have improved efficiency in almost every area of the car by up to 30 per cent.
With a launch looming in February next year, Driven this week took to a vehicle-testing facility in the wilds of Victoria to sample a hatch and sedan version of the new car - the duo representing the only two in existence to be tuned to the type of road surfaces and conditions that New Zealand and Australia enjoy, or sometimes barely tolerate.
So while the pressure was on us not to ruin Mazda's plans for these two cars under any circumstance - despite the proving ground's abundance of fast-moving, car-killing wildlife - the company was under immense pressure for us to leave the Angelsea test centre with nothing other than the very best of impressions. Hard yakka, one might say.
Having seen the car earlier this year in pre-production form, the looks and design were a given - it fits into the family photo album with no problem at all. The interior materials have taken a leap forward, the tech is impressive and it is a huge leap forward in looks from its predecessor. But the proof is in the driving, so we embarked on a mixture of roads that reflected highway-speed, single-lane environments, mixed up with a mad series of corners, some surprise surface changes, camber that can't make up its mind, the odd pothole, a smattering of gravel and the odd suicidal marsupial.
The expectation was an improvement over the current model, but the reality is a huge jump in design, driving performance and specification lifting it above most competitors and capable of going up against the king of the mid-sized hatches; the Volkswagen Golf 7. It's not going to take the fight to the top spec out of Germany, but it's far from the entry-level model. This simply could not be said about the last model.
There are two highly-efficient petrol engine options that will arrive here next year in the five-door hatch form as well as sedan. The 2.0 making 114kW and 200Nm of torque and the impressive 2.5 cranking out 138kW and 250Nm of torque.
Diesel engines are a possibility, says Mazda New Zealand's Glen Harris, and the go-fast MPS version is a certainty. But with final specification and pricing still being tweaked, those two models will have to wait. He says the diesel uptake in this segment isn't huge with the smaller engine returning combined fuel economy figures of 5.8L/100km and emissions of just 136g/km, and the 2.5L sitting just over 6L/100km and 143 or 153g/km depending on whether it's the automatic or the manual version.
Both sedan and hatch are the same length as the outgoing generation two versions, but the width has been bumped up by 40mm and the wheelbase stretched by 60mm to 2700mm overall.
Impressively, there has been a lot of room added where it counts on the inside, with more shoulder room front and rear and more room to stretch legs for the bods in the back. It was only after jumping directly from one of the current models into a new one that it became apparent just how far it has come. It doesn't feel as small on the inside as it actually is, and there is a lot of usable storage space and a far more open feel to the whole cabin.
The comfort factor in the car has improved significantly, and although a big part of this has come from materials, design of seating and optimising the placement of components, the impressive reduction in road noise adds to making the 3 seem more refined, and certainly more grown-up, in much the same as the new Mazda6 was an improvement over its predecessor.
The most important information can now be seen in a class-first heads-up display which projects far enough ahead of the driver that there's no real need to refocus to read it, but the big news is MZD Connect.
This is an excellent new infotainment interface that revolves around a 7in, dash-mounted display, with a control shuttle within easy reach that works intuitively enough that most drivers won't take their eyes off the road to change tracks, switch to navigation or use in-built connectivity options. Driver information smartphone services have also been hugely improved with ready access to applications such as Facebook and internet radio services.
On that matter, the safety systems have come into line with the Mazda6 and include everything from city brake support to lessen the chances of low-speed, nose-to-tail, as well as blind-spot monitoring, lane departure warnings, adaptive lights and hill-start assist. There are far too many safety features to delve into here, but they will be covered in depth when the car officially launches on to the New Zealand market.
The driving experience has also changed quite radically with softer dampers and bushes in the rear suspension helping to defeat vibration and thus improve comfort on the inside, but it hasn't softened up its handling abilities at all.
More widespread use of high tensile steels in the chassis have made it 30 per cent stronger than the last hatch and 21 per cent stronger than the sedan.
Tweaks to the suspension have created a less jarring ride and, driving on the same roads at the same pace as the old one, it was quite obviously more direct and balanced, even on the ever-changing surfaces and contours on our test track.
The steering weight has also changed quite noticeably, with a more progressive response to driver inputs giving a positive and accurate reply to each turn of the wheel.
While the length of time at the wheel wasn't really enough to give a comprehensive report on how the two vehicles will handle on our roads, in urban and country areas, if it feels that much more settled on the test centre's mix n' match, it should be pretty well-behaved when driving around the suburbs. We'll know for sure early in the new year when the first demo cars arrive here.