The crackling exhaust notes from the CLA45 sports will make you demand a turn, writes Liz Dobson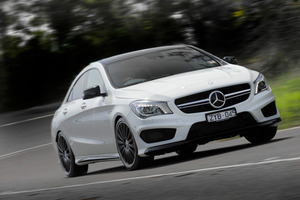 The Mercedes-Benz A45 AMG is a hatchback that makes grown men squeal like a little girl (no offence to little girls), so what reaction does the CLA version have on drivers?
At the Australasian launch around Victoria's Yarra Valley, there was more squealing of tyres than occupants, thanks in part to the magnificent winding mountainous roads, and the desire to let the vehicle make the most noise.
The CLA45 AMG gains the same stonking 2-litre petrol engine as the A-Class version, with such impressive figures of 265kW, 450Nm and the world's most powerful production four-cylinder engine.
Add to it the AMG speedshift dual-clutch seven-speed transmission, whack on 19in alloys, and make it 332mm longer and 30kg heavier than the A45 and you have a dynamic coupe.
The added weight for the CLA45 is in the rear, which means you have a more controlled, yet squeal-worthy, drive than the fiercely independent sports hatch.
It's the crackling exhaust notes created by the AMG sports system in manual mode in the CLA45 that makes you want to drive, and drive ... and drive the coupe through as many corners as possible to make the popping noise as you move through the gears.
But the downside to the transmission in manual mode is that there is too long a gap between second and third and vice versa, felt especially during hill descents.
With the obvious drive difference between the two vehicles, there is also a price difference. The CLA45 AMG costs from $107,900, with the hatchback version at $94,900. The price difference between the CLA200 and CLA45 version is $42,000, although for that you get the AMG package including the 4MATIC all-wheel-drive system, performance seats, panoramic electric sunroof plus sports suspension and high-performance braking system.
Just 10 minutes into Driven's exclusive test drive, the CLA45 AMG gave a sharp test of its advanced collision prevention assist safety braking system. The radar-based design warns the driver of an obstacle from a speed of 7km/h - which was about the speed my Aussie co-driver was doing when we turned a corner.
The SUV ahead of us hesitated when trying to overtake a truck and instead braked suddenly. Although the SUV was 3m ahead of us, the CLA45 wasn't impressed and automatically applied the brakes, let off a warning noise and tightened the seat belts in the event of collision.
Such reassurance, alongside the blind-spot-assist triangles found in the side mirrors of new Mercedes-Benz vehicles, gives the CLA45 AMG bodyguard-like qualities, which was needed as we sped through the forest roads of the Yarra Valley - especially as we drove past debris caused by high winds the previous day.
Now, having a branch of tree land near me during the test drive would certainly make me squeal.