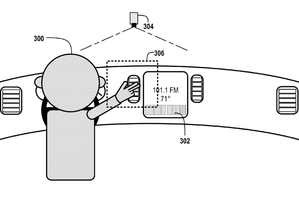 Most gestures we make in our car are probably less than friendly - or useful, for that matter - but Google wants to change that. It's no secret that Google has been slowly but surely finding its way into the automotive game, and it's been working with manufacturers to build self-driving cars for quite some time. But now it has applied to patent a system that uses hand gestures to control the car's various systems.
Using a ceiling-mounted "depth camera" and a laser scanner (similar in concept to Microsoft's Kinect camera for its Xbox games), the system will watch for and interpret the user's hand positions and movements.
For example, if you swipe downwards near a window it will roll down, or perhaps pointing at the radio will turn it on or off.
Because a patent has been applied for is no guarantee we will all be swiping through the air like lunatics to try and turn up the air con. But coming, as it does, just days after Google acquired start-up motion control company Flutter, it is looking ever more likely that rude gestures won't be the only ones we will be making in our cars soon.
Mates may break car before record
Perhaps they have a strong sense of irony, or are just wildly optimistic, but two British gents are attempting to drive from London to Cape Town in under 10 days - a distance of more than 16,000km - in a 2005 Land Rover Discovery, aka one of the least reliable Land Rovers ever built ...
To make things even more fun, the attempt is being sponsored by UK warranty firm Warranty Direct. That could well come in handy for them.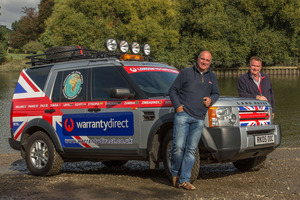 Experienced endurance rally drivers Robert Belcher, 58, and Stephen Cooper, 53, left London on October 4, and will navigate through 13 countries - England, France, Italy,
Tunisia, Libya, Egypt, Sudan, Ethiopia, Kenya, Tanzania, Zambia, Zimbabwe and South Africa.
They are aiming to finish in Cape Town at the southern tip of Africa by 4pm on October 14.
To see if they made it check out londoncapetownrecord.co.uk.
To cover the 16,000km in less than 10 days, the pair will need to maintain an average speed of 68km/h, 24 hours a day. Sea and river crossings, border delays and fuel stops will need to be made up for, but without breaking speed limits.
To cover as many miles in the day as possible, Robert and Stephen will drive around the clock with one resting whilst the other is at the wheel.
The Discovery has received a few modifications; underbody protection has been fitted and additional fuel tanks will give the 2.7-litre, turbo-diesel V6 a 2000km range.
The first attempt at the mammoth overland drive was undertaken 80 years ago in 1933 in a Morris Eight convertible driven by Cameron Gilg and Walter Kay. The pair took 158
days to navigate a route which included a treacherous crossing of the Sahara Desert.
Subsequent attempts at setting new records have been achieved on the 30th, 50th and 80th anniversaries of that first run.
We are the world
*When it comes to a restoration project, most blokes will settle for a motorbike or maybe an old car to tidy up in the shed as an excuse to avoid the missus on weekends. But
not UK builder Neil Banwell who shelled out 10,000 ($19,256) on a Harrier Jump Jet on eBay. Banwell placed the winning bid six years ago without his wife's knowledge. She was not happy when she found out.
However, after six years of fettling the Harrier is now apparently worth 10 times what he paid for it, except now neither of them want to part with it ...
*A New Jersey commercial fisherman has to be simultaneously one of the stupidest and one of the luckiest people alive after a recent motorcycle trip.
Matthew Camp, 32, had cashed a $12,000 cheque in order to buy his girlfriend an engagement ring and rather stupidly stuck the cash in his backpack - that had a broken zip - and headed out on his motorcycle. Of course, the money fell out. But and here's the really amazing part - a cleanup crew on the Garden State Parkway found $4000 and another person has also come forward to return $5300. It's still $2700 short, but it is $9300 more than he deserves to get back ...
What a difference a hatch makes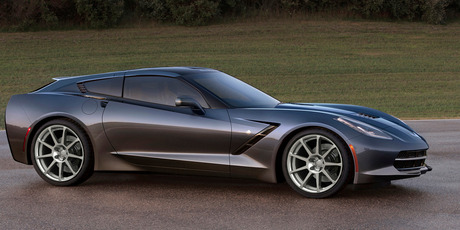 Callaway Cars has recently announced it will put a wagon version of the sensational Corvette C7 into production.
Drawings of the Callaway AeroWagon first surfaced in March, showing a sexy, shooting brake-style two-door that the company claimed would be more aerodynamic than the standard Corvette, making it good for a top speed over 322km/h.
While it seems extreme a small tuner announces production plans for a complete car, Callaway isn't biting off more than it can chew: the entire ''conversion'' consists of swapping the standard Corvette's rear hatch for the Callaway resin transfer moulding-produced wagon version, while the top speed can be achieved by bolting on the Callaway
engine boosting bits.
The AeroWagon body conversion can be fitted by owners and will be available for a hefty US$22,995 ($27,650) on top of the purchase price.
Fuel miser to speed demon
Last week we brought you an actual drive in the uber-frugal Volkswagen XL1, now word has surfaced of a slightly more extreme version of the little guy.
Proving once again that he is a man of extremes - or just not all that sane - VW supervisory board chairman Ferdinand Piech has let slip - in a very emphatic way,
with slides and all - that the company is seriously considering a Ducati-engined version of the tiny XL1.
The resulting beast, named the XL Sport, will pack a 1198cc engine from the Ducati Panigale superbike and will actually weigh less than the XL1's already minuscule 795kg.
The Panigale's engine punches out 140kW of power at a screaming 10,750rpm and 123Nm of torque at 9000rpm, while the XL1 is currently powered by a tiny 800cc
two-cylinder diesel engine - plus electric motors - that produce a mighty 50kW in total.
Expected to be a dedicated track-only car, the XL Sport will ditch the narrow closed-in rear wheel design of the XL1 for a wider stance and the Ducati engine will be hooked up to a twin-clutch transmission.
Electric Fords too quiet and Honda badge on wrong side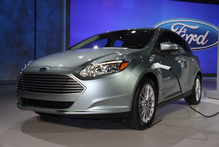 In one of the odder recalls of recent memory, Ford is recalling 23,830 Focus Electric and C-Max Hybrid models equipped with a push-button ignition because they don't make a
noise when the driver's door is open and are therefore in violation of United States federal regulations.
According to US regulations when the driver's door is open a chime should sound to remind Americans the key is in the ignition, something that is impossible with cars that have keyless push-button start.
Meanwhile, Honda has issued a notice asking owners of 2013 Odysseys to check which side the ''Odyssey'' badge is on the rear of their car.
An unstated number of vehicles had the badge fitted on the wrong side, causing Honda to issue the notice out of concern that the incorrect placement may affect resale value by misleading potential buyers into suspecting that the vehicle may have been involved in a crash and had the badge replaced incorrectly ...
Number Crunching
158 DAYS The first drive from Liverpool to Cape Town in a Morris Eight convertible in 1933.
13 DAYS And eight hours and 48 minutes for the route in 1963 in a Ford Cortina.
14 DAYS And 19 hours and 26 minutes for the route in a Range Rover V8 in 1983.
10 DAYS And 13 hours and 28 minutes for the route this year in an 875cc Fiat Panda.