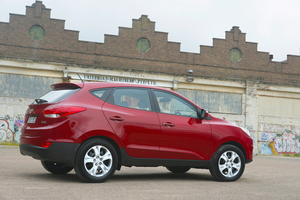 Stan has just bought a new vehicle but is now questioning his decision - especially when it comes to the economics of driving it around the city.
"After several years with a Mitsubishi Magna 2.4 then Diamante VR followed by a Honda Accord Euro L 2006, we bought a 2010 Hyundai ix35 Elite AWD petrol," says Stan.
"We like the style, the extras but I am very disappointed with the fuel consumption as most of our driving is city or motorway, usually rush hours.
"Yes I am a bit heavy on the driving but if my wife used the car for a couple of days, which includes the rush hour driving, the Diamante would be showing 10.9l/100km, the Honda similar, and with my driving about 12.5 to 13l/100k. The Hyundai is most likely to be 13.5 through to 15L/100k."
Well Stan, this is an issue that the industry has attempted to address in recent times. The most popular market segment currently (without counting commercials), by a comfortable margin, is SUVs like your 2.4litre Hyundai ix35.
As stated in recent articles published in Driven, these vehicles are not always bought for their AWD capabilities but more for the better seating position and overall practicality they offer.
In reality, there are few who really need drive to all four corners of the vehicle on a regular basis. Add to that in your case, the fact that when you do the comparisons with other like vehicles, the ix35 petrol is not class leading when it comes to claimed fuel consumption figures.
Nissan NZ were very clever when they launched the Qashqai on to the NZ market fitted with a 2-litre engine and 2WD as the only option. Most owners got exactly what they wanted with fuel consumption being no worse (and often better) than the vehicle they had just traded.
Because of the popularity of this market segment most new car distributors are now offering a 2WD option to their SUV model range with better combined fuel consumption figures than their 4WD variants. Many are also fitted with a Constant Variable Transmission (CVT) which goes a long way to reducing fuel usage. Subaru is one brand which has retained AWD but reduced fuel consumption by adding CVT transmissions on selected models.
You also need to think about the amount of traffic that has built up in the last two years especially in Auckland. The longer a vehicle sits in slow moving traffic the more fuel that is consumed. Same with short cold trips.
Remember also, manufacturers claimed fuel consumption figures are a guide and never a guarantee. And a combined figure covers a mixture of urban and open road driving.
If you compare the claimed combined fuel consumption figures of your 2.4-litre AWD Hyundai ix35 with a 2-litre 2WD ix35 the difference is not that huge (9.2 v 8.5l/100km). If you look at the figures for a 2WD Nissan Qashqai or Mitsubishi ASX the gap does start to open up a little further but not excessively. The Nissan has a claimed combined figure of 7.6l/100km and the Mitsubishi 7.9l/100km.
So would you give up the Hyundai based on disappointing fuel consumption figures alone? Well if you have the need for that extra power, tow on the odd occasion and aren't overly keen on the way a CVT operates then the ix35 still has an awful lot going for it.
Maybe you could lighten up on the throttle a little and enjoy the other benefits a modern motor vehicle offers. I'm sure if you challenged yourself to drive a little more smoothly, the fuel consumption would improve and I'm sure your local Hyundai dealer would be happy give the ix35 a quick check to make sure the engine management system is delivering the most economical performance.