Jacqui Madelin meets an avid collector of the original People's Car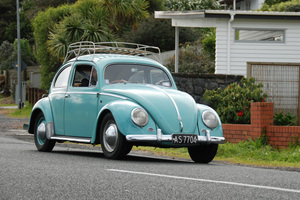 Philip Coyle's definitely got the Beetle bug; he drove nothing but classic Beetles for 20 years and he now has three, though he finally succumbed to a modern car too: a Ford Mondeo wagon, "for carrying parts".
Until that arrived, this 1956 NZ-built Beetle was his daily driver and he's had it 13 years. Why Beetles?
"There's a humorous side to them, and the history is interesting as well," says Coyle.
He'd have to say that - he's an Auckland high school relief teacher.
What impresses me about this car is it's completely original, right down to the dealer sticker on the dash - TB Baty Ltd, Greymouth - though the 1.2-litre rear-mounted motor had been reconditioned when he got it.
"It could do with a paint job and a freshen up," he says.
But the appeal is that every bit of this car is the same as when it was assembled in Otahuhu 57 years ago; the roof lining's showing its age, but the seats are pristine apart from their glossy patina, and the array of fridge magnets adorning the aqua-blue dash just speaks of the life it's lived.
Coyle's driven it as far afield as Dunedin and Cape Reinga.
All Coyle's Beetles are of the same era, though it's the German Standard in Jupiter grey with the cable brakes and crash gearbox that's being restored.
He does the grunt work - he'll remove an engine - but he says experts do the tricky stuff.
Why three cars?
"Two means one's a spares car, but three's a collection - I have the minimum for a collection," he jokes.
That's a German-sourced roof rack atop the car - the front "boot" is too full of fuel tank, spare tyre and jack to take luggage, and there's not much space behind the rear seat for more than two small suitcases, the 1950 cardboard type, of course. And out back an original luggage rack folds flat, to carry anything you don't mind stinking of exhaust fumes.
There's not much space inside with us both tucked aboard - Coyle's 1.9-metres tall - but the motor fires gamely and soon we're puttering about in it, the engine purring away behind us, engagingly dominating the background along with a slight hum from the wind through the roof rack as Coyle gives me a few tips to mastering Beetle driving.
"You have to keep your foot down round corners or the handling gets funny." Apparently they have a tendency to go straight on.
I like the fact you have to drive these, while a modern car does pretty much everything for you.
"I like the fact you have to drive these, while a modern car does pretty much everything for you, though you can't be in too much of a hurry. Mind you, if I go to Wellington in it, it only takes half an hour longer than in my modern car."
I've been tallying the comfort and convenience features - two coat hooks, an ash tray, and accessory sunshields of smoked plastic that swivel down like a pair of cheap sunglasses, plus a single trafficator that flicks up on the left-hand side: indicating right requires an arm stuck out the window.
The four-speed gearbox is a cinch to navigate, and the engine feels game despite its modest 27kW. But it's got710kg plus passengers to shift, so actual acceleration is relaxed and by golly, he's not joking, you really do have to press the accelerator pedal to get it round corners, the steering gets super-heavy if you don't.
"I think you're the only woman to drive this and smile," says Coyle, who doesn't know my earliest car memories are from the back seat of a Beetle when I was 4 or 5. Claimed top speed is 109km/h - and Coyle says it'll sit happily at 85 or 90km/h; I'll take his word.
The colour is somehow both retro and modern. Coyle says while Germany controlled most of VW's presence in New Zealand - right down to dealer layout - the colours were chosen by Kiwis. "The production manager and his secretary chose what was fashionable at the time and it didn't relate at all to the German colours."
You can see why original Beetle owners become such fanatics - the car's cute, surprisingly practical and oozes character.
But what do the teens he teaches think of it?
"Some of them think it's funny - and some that it's a Morris Minor. What's wrong with kids these days!"