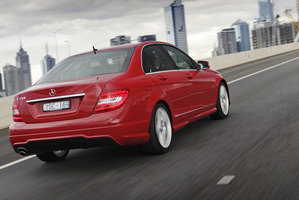 Mercedes-Benz is celebrating the worldwide success of the baby of the family, with more than 10 million cars of its C-Class family sold since its launch in 1982.
In that figure is more than 2.3 million sedans, estates and coupes of the current model series sold since it was unveiled in 2007.
Dr Joachim Schmidt, executive vice-president, sales and marketing Mercedes-Benz Cars says: "The Mercedes-Benz C-Class is a global success story. Sales of over 10 million C-Class cars speak for themselves. Launched as the 'Baby Benz', it is now one of the most popular cars in the premium segment.
"The innovative engineering and impressive efficiency of the C-Class have been inspiring our customers for more than 30 years."
C-Class sedans sell extremely well in the US and South Africa while demand is strong for the estate among customers in Europe. The C-Class coupe tops the registration lists in virtually all markets, including those in the US, Germany and China.
The C-Class is one of the most popular models among business customers while the C-Class estate was voted 2011 company car of the year in Germany.