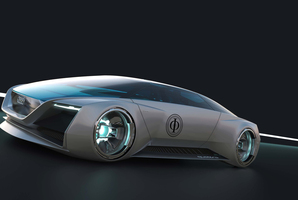 As we know well from the Iron Man movies, Audi is not shy of product placement in our entertainment. The German carmaker has gone one step further for the upcoming science-fiction adventure, Ender's Game, and created its first "purely virtual" design. While it sounds very impressive and all, it really is just Audi's way of saying, "we're not going to actually produce something this cool", after it raised expectations with the brilliant RSQ in Will Smith's clunky movie of Isaac Asimov's I, Robot - only a few pieces of plastic away from being the actual production R8.
Audi collaborated with director Gavin Hood and the production team to use the latest technology to digitally integrate the Audi fleet Shuttle Quattro into the film.
"The Audi in the movie represents progress and it appears in key scenes that have a lasting impact on the life of the protagonist," explains Florian Zitzlsperger, of Audi AG.
"Our Audi becomes part of this fictional world."
In other words "the main character rides in it for a few brief, uncomfortably obvious seconds". Yes, yes. We all remember the Ford Mondeo in Casino Royale.
BMW phones it in
What do the latest smartphones and the upcoming BMW i8 have in common? Well, apart from being covered in the drool of nerds, they also feature the same scratch-resistant wonder-glass.
Actually, make that Gorilla Glass to be completely accurate, as the i8 will soon be the first production car to use the chemically hardened glass. Lighter, stronger and providing
more sound deadening than conventional laminated automotive glass, Gorilla Glass will be used for the rear window of the BMW super-hybrid when it debuts later this year.
It will still be laminated, according to an article on autoevolution.com, but will feature a weight-saving of roughly 50 per cent compared to conventional glass.
Crown of fuchsia
The Toyota Crown is traditionally very, well, traditional. Basically the large car that, er, older members of Japanese society buy when shuffling around in that period between retirement and death, the Crown has always been big, comfortable and, well, that's it
really. But all that is set to change with the release of the new-generation (the 14th!)
version of the ''sporty'' Crown Athlete, when it goes pink.
Yes, pink. Recent versions have been based on the Lexus GS and the 14th incarnation is no exception, except for the fact that Toyota designers have clearly decided to go one-up on Lexus by designing an even more horrifying grille and offering the big, traditional Crown in a rather vibrant shade of pink.
Apparently the original idea of the pink was to draw attention to the grille (as if the grille not being noticed was ever going to be a problem ... ) on the debut show car. Toyota has now decided to offer the ''Electric Fuchsia'' Crown for sale.
So if you REALLY need a pink Toyota Crown ... well, let's face it, there's something
drastically wrong with you if you REALLY need a pink Toyota Crown.
Fiat's developers float another innovation
While elderly Fiat 500s are being crushed and hung on the wall in Israel, in America new
versions of Fiat's iconic small car are taking to the water.
In a strange, but undeniably attention-grabbing promotional move, Fiat has built a bunch of 500s (including a standard 500, a 500C, a 500 Abarth and a 500L) based on jetski underpinnings.
Originally appearing at Miami's South Beach, the floaty 500s also appeared at the US surfing championships at Huntington Beach, California, and are now buzzing around the
America's Cup competitors in the San Francisco Bay, where they almost outnumber the
competitors ...
Crushed Fiat 500 hangs around, but is it art?
When The Good Oil was but a small drip there were many happy hours spent crushed into
the back of a tiny Fiat 500 with two other young 'uns and a rather large German shepherd.
But Israeli artist Ron Arad has turned the tables on the diminutive Fiat with his latest art
installation at Israel's Design Museum Holon.
Called In Reverse, artist and industrial designer Arad's quirky and eye-catching installation features six wall hangings all made from flattened 500s.
The crushed 500s are part of a project where Arad, who also designed the museum, has explored ''through physical experiments and digital simulations, the way in which
automobile bodies, specifically the Fiat 500, behave under compression.''
Well, they collapse into a mangled mess of metal, rubber and plastic for a start. But this is art, so there is more to it than that ...
Arad said he reshaped the 500s ''to resemble the outcome of an accident in a cartoon or a child's drawing that lacks a sense of depth'', but whatever pretentious reasons you want to give, there is no denying that a crushed Fiat 500 makes an awesome wall decoration.
We are the world
A man in Russia has just been arrested for stealing a road. Yes, that's right, an entire stretch of road comprising 82 massive concrete slabs worth roughly $8000. The 40-year-old man reportedly dismantled and removed the large section of road in the Republic of Komi without anybody noticing.
A thief in Connecticut was recently defeated by an alcohol ignition interlock. The man was one of a trio who stole US$4500 ($5644) worth of ladies handbags from a store and took the opportunity to steal a nearby idling car. Unfortunately for Levar Fulgham the car belonged to a convicted drunk driver and was fitted with an interlock that prevented it
from being shifted into drive without first blowing into a breathalyser. He didn't know this and was roundly tasered by police before his eventual arrest.
Number Crunching
14 Generations The number of incarnations the Toyota Crown has been through since its introduction in 1955
5 Body stylesThe Crown has appeared as a sedan, four-door pillarless hardtop, two-door coupe, wagon and, yep, a ute
3 Descendants The Crown has inspired the naming of the Corona (crown in Latin), Corolla (a small crown) and Camry (derived from kanmuri which means little crown in Japanese)
6 Years The amount of time the Crown was assembled in New Zealand for; 1973 to 1979