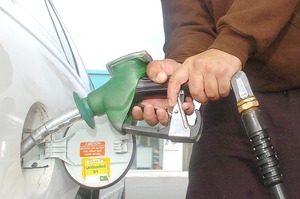 More Auckland drivers are calling for help after unsuccessfully trying to squeeze the last kilometre from an empty fuel tank - with about 50 motorists a week stranded on the motorway network alone.
The AA came to the aid of almost 6500 drivers around the country stranded without petrol in the year to June 30.
That was down 2.5 per cent from the previous year, but Auckland was up 4.5 per cent with more than 2600 strandings in the region.
The Transport Agency's figures show about 50 drivers run out of petrol each week on the Auckland motorway network.
AA Roadservice national manager John Healy said ignoring the petrol light was not worth the risk.
"It varies in vehicles. You need to keep out of that warning area.
"Running out in Auckland can be quite stressful if you happen to be on a busy road, motorway, or bridge."
The price of a litre of petrol reached a record high last month - with 91 octane rising to $2.27 a litre in the main centres, and 95 octane to $2.35. Prices are now about $2.21 a litre of 91, although there is variation between service stations.
AA PetrolWatch spokesman Mark Stockdale said some drivers were caught out when petrol prices increased.
"Someone who puts in $40 of fuel each week may estimate being able to get to and from work for five days.
"But when the petrol price jumps 10c between fills, that $40 doesn't get them as far. People may need to spend a little more, or fill up sooner than normal."
The head of the Federation of Family Budgeting Services, Raewyn Fox, said people living close to the poverty line were hit hard by petrol rises.
Often it was a matter of holding on to payday and hoping the tank of petrol would last.
"You do the responsible thing, you set your budget, you make sure you've got enough to pay all your commitments. And then, wham, the petrol price goes up and you're struggling to get to work or the kids to school."
Transport Agency Regional Asset Manager Steve Mutton said it was not an offence for the driver of a vehicle to run out of fuel on a motorway.
But in a serious case, a driver could be charged with careless driving - a matter that must be heard by a court.
"The act of running out of fuel, in itself, is not serious but the ramifications can be serious in a motorway environment," Mr Mutton said.
Petrol prices
*Standard price of $2.21 a litre for 91 octane, although prices vary between outlets.
*Down from record-high $2.27 a litre in July.
*In real terms, fuel cost more during 1984-85 than today.
How to save
*Ensure tyres are up to the correct pressure.
*Don't drive angry - ease up on the acceleration and anticipate to allow smooth driving.
*Supermarket rewards and other deals can produce worthwhile discounts.
*Lighten up - check your boot and back seat and remove all excess items.