Driver training days are invaluable for learning how modern cars respond under extreme circumstances. And they're terrific fun, too, writes Dan Stevens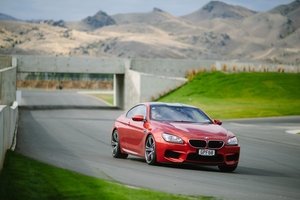 One way to gain greater enjoyment from driving is to improve your skills. More control breeds confidence and, provided you remain considerate behind the wheel, switched-on passengers might come to regard you as "a good driver". That's quite an accolade in anyone's book.
Every manufacturer insists you'll enjoy driving more by buying their latest and greatest, but only a handful offer track-based driving days that allow you to experience the potential of their cars while honing your skills with professional instructors.
Courses range from introductory to advanced to motorsport-focused, but even experienced drivers will benefit from what's on offer at entry level. Having previously attended the revamped Audi Drive Experience at Hampton Downs, Driven returned for the BMW Driving Experience run by chief instructors Mike Eady and Martin Collins.
A racetrack is an ideal controlled environment for learning the correct techniques for braking, driving around corners and reading the road. The purpose of the BMW course is to equip drivers with the skills to make good decisions when faced with potentially dangerous situations. In our briefing, Martin Collins boils things down by pointing out that any driver's response to a problem is reflected in the grip (or slip) of four rounds of rubber.
Participants are paired up in sporty M-spec 3-series with front and rear tyres inflated to 40 psi. Instructors communicate via radio.
Collins says the first thing he does when finding an ideal seating position is to fully depress the brake pedal. He recommends adjusting your seat so there's still a slight bend in your right leg and your wrists rest comfortably atop the steering wheel. The idea is to brake with your strongest leg muscles, not with a flex of the ankle.
For optimal steering control, Collins says to grip the wheel with hands at quarter-to-three. "Your thumbs will rest comfortably in the indents by the crossbar and your forearms remain away from the wheel-mounted airbag."
Track-lapping exercises referred to as "ideal line lapping" book-end the BMW and Audi courses.
We get under way on a damp, slippery track that highlights the value of driving good lines (literally following the instructor's tyre tracks), completing braking before bends, turning in smoothly and exiting with measured throttle application.
Mike Eady says corner entry speed should be lower than exit speed, and acceleration gentle and controlled, avoiding the use of traction control.
"Correct observation is important, especially focusing on fixed exit points as you look through corners, and the steering angle can be released early on after exiting a bend."
In the safety of the track environment, it's clear to see the value in driving up to the limits of adhesion but maintaining full control of the car. Pushing a fraction too far causes the car's electronics to momentarily wrest control from amateur limbs and you can't help but register the stuff-up.
My passenger is a racetrack newbie who feels a little out of his comfort zone on the exploratory laps. His instinct is to brace himself while I work at applying the instructors' advice: approach bends out wide for maximum vision through the turn, steer to where you want to go, ease off the brakes as you turn into the apex, squeeze on the power upon exit ...
Once behind the wheel, the newbie finds himself without a benchmark, unused to driving with six times more road width than usual. He starts out turning into bends too soon without using the available space. Later the track dries and his lapping gets neater and quicker as he times his inputs well, drives optimal lines and carries more speed through bends.
The Emergency ABS exercises demonstrate the importance of maximum attack on the brake pedal to activate the ABS. This sees the brakes repeatedly lock and unlock in milliseconds to prevent you locking up and ploughing straight on. My driving partner recalls employing ABS twice at open road speeds - both times to avoid loads that had fallen from vehicles he was trailing.
"To stop a vehicle quickly at speed requires a lot of brake pressure," says Eady. "The most common error a driver makes is being too gentle on the pedal and not activating the ABS. In an emergency stop, maximum attack on the brakes is by far the best way to stop a modern car. And by having the ABS activated, the driver can also perform an avoidance manoeuvre."
I confess to being guilty of another common driving error - approaching a bend much too quickly. "If you approach too quickly, you have already made a big mistake," Eady notes. "But if you have ABS and some sort of traction control, you can apply the brakes and gently turn into the corner."
Whereas Audi runs a timed mini-gymkhana on its Drive Experience, the competitive part of the BMW course is a timed slalom run, which proves a test of smooth steering and acceleration and firm, precise braking. It teaches you to lift your eyes and focus on what's up ahead rather than following your nose and collecting cones. Each driver in our group gets progressively quicker over three runs but even the fastest effort is several seconds off a course best.
We're naturally all left wanting a few more runs to close the gap - and a few more track laps to boot. In fact I was still reliving my better manoeuvres and cone-breaking faux pas a week after completing each of the drive days. No wonder BMW and Audi have so many signing up for their advanced courses.
Prepare for the big day
Driving courses don't come cheap, but when you consider the cars, track facilities and professional instruction, it's obvious where your money's going. Better still, if the course helps you avoid even a minor accident, it could prove a fine investment.
To get maximum bang for your buck, Driven recommends a little preparation in the lead-up:
1 Use your eyes more Get in the habit of looking further down the road when driving and anticipate problems earlier. Look right through bends to where you want to go and your hand-eye co-ordination will take you there.
2 Know your own car Check whether your car is equipped with ABS and stability control, and make sure your tyres are correctly inflated. At the course, note whether you're in a petrol or diesel car, and which are the driven wheels. How does it differ from your own car?
3 Get familiar with the track If you haven't driven around the training circuit before, a little homework can pay off. Study a circuit map or watch an online video of a car
lapping the track.
4 Ask about the programme Find out which exercises you'll be undertaking and the course structure, so that you arrive with an idea of what you'll be trying to achieve and any driving weaknesses you can address.
5 Limber up beforehand The track is a controlled environment that's ideal for pushing a car hard. Mentally prepare to step outside your comfort zone and bear in mind that the braking exercises, in particular, place strain on the neck, abdomen and leg muscles.

More info
You don't need to be a prestige car owner to enjoy these courses:
Audi Drive Experience www.audi.co.nz/drive
BMW Driving Experience www.bmw.co.nz/drivertraining
Mercedes-Benz Driving Academy www.drivingacademy.mercedes-benz.com.au
Porsche Driver Training www.giltrapporsche.co.nz; www.continentalcars.co.nz/porsche

BMW driving instructor Mike Eady is full of tips on driving position and handling emergencies.