Car creations in past 60 years have been heavily influenced by aircraft development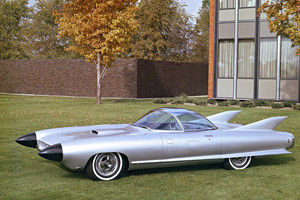 Why is it that car designers have an overpowering urge to reference aviation in their automotive creations?
Possibly because the rise of cars as status symbols happened in parallel with the emergence of the jet age in the 1950s and 1960s: both are expressions of a bold new era of glamorous transportation.
Perhaps it's because cars and planes both rely on aerodynamics and aspire to high-speed travel. Or it might just be that shared thrill of being in control of a high-tech machine.
One thing is for certain: for the past 60 years, car design has drawn heavily on the world of aviation. Here are five of our favourite aeronautical-automotive details.
TAIL FINS
Countless generations of Cadillacs have come and gone since the 1940s, but so many people still associate the American luxury brand with big tail fins. They were a styling detail definitely inspired by planes - specifically the Lockheed P-38 Lightning, an outrageous-looking fighter with its V12 engines mounted in twin "booms" out the back, complete with vertical fins.
A group of General Motors stylists were granted a sneak preview of the P-38 in 1941 and that's really where the madness began. Fins first appeared on the 1948 Cadillac model range, but soon aviation cues like wings and canopy cockpits were appearing on all manner of GM cars and concepts.
They didn't last that long on production cars - into the 1960s. But the memories live on.
HEAD-UP DISPLAY
This is actually a good idea: as much function as styling artifice. A head-up display projects important information onto the glass directly in front of the driver, removing the need to look down at the instrument panel.
So you keep your head up rather than looking down - see what they did there?
It's a feature in fighter jets but was adopted by General Motors for select Oldsmobile and Pontiac models as far back as the late 1980s. The one that really established the technology in an automotive sphere was the 1998 Corvette C5 - possibly because it was a car so closely associated with American flyboys. Nissan and Toyota also offered the technology on some Japanese domestic market models in the 1990s.
Head-up displays are used by a number of carmakers today, although mostly luxury brands. Some more mainstream makers have found cost-effective ways to deploy the technology; Peugeot-Citroen, has a system that projects basic information on to a small piece of Perspex in front of the driver, rather than on to the windscreen.
BLACK PANEL
Saab always delighted in drawing parallels between its aviation heritage and carmaking business - some of them quite tenuous. One of the most interesting design details to fall from the sky into Saab cars was Black Panel, introduced on the 900 in 1993 (renamed Night Panel for later 9-3 and 9-5 models).
With the press of a button, Black Panel could shut down all instruments apart from the essential ones, to minimise distraction in night driving. So the speedometer would stay illuminated, but the tachometer would only light up when the engine revved hard. The fuel gauge would only appear when the tank was getting empty, and so on. Not a bad feature once you got used to using it, but it never really caught on beyond that one brand.
BRONZE BUTTONS
The publicity material for Jaguar's new F-Type roadster rattles on about the car's cockpit-style driving environment, which is not surprising.
What might surprise when you slip behind the wheel are the select few controls that stand out in a garish bronze colour. They are not exactly tasteful and are not meant to be.
These are a design feature inspired by the world of fighter jets, with the most important controls - you know, the ones that you might need to find in an instant as you battle with some bloke in a Porsche Boxster - finished in that lurid hue so that you can identify them with your peripheral vision.
In any other car, that might seem a bit silly. But in the F-Type, where you're likely to be laughing like a lunatic and have ringing ears from the exhaust note, it might be a handy feature.
THE OVERHEAD CONSOLE
Part plane, part helicopter: the Citroen DS5 goes all-out with a three-piece glass roof (two small sections at the front, one larger one at the back) and a row of controls centrally located overhead that would do any passenger plane proud.
Full marks for style, although the roof is not the ideal place for switchgear in a car: let's face it, you should be looking ahead, not upwards. No matter: the buttons overhead are mostly there to operate the shades for the glass roof sections.
Although there is also a button there to raise the Perspex reflector for the head-up display. It's a plane thing.