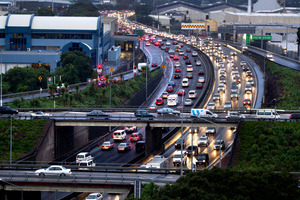 The spectre of pay-to-use roads has loomed large for a long time. New Zealand is struggling to pay for its transport needs, which are growing exponentially, and something must be done.
Rate increases aren't exactly a fair way of tackling this problem.
Slapping more zeros on the end of an already bulging rates bill won't win any friends, and will penalise many who don't use the roads much.
Like it or hate it, toll roads are the answer. It's a user-pays world and, if you want to get to work quickly and easily, you will end up paying one way or the other, so it may as well by a toll that targets those who benefit most.
But here's the rub - if the roading network isn't improved to a point where it is actually worth paying to use, then there's absolutely no point.
That's the flipside of user-pays: we're prepared to pay up when there's quality there but, if it's not, there's going to be a whole lot of trouble - and not just in 140 word bleats on Twitter.
Those grey enough to remember the Auckland Harbour Bridge toll booths will remember occasions when something went wrong and traffic came to a standstill - and this is back when there weren't that many cars on the road.
Add computer systems, the modern road manners that have flicked off courtesy in favour of stupidity and arrogance, and the tendency of transport authorities to royally cock things up.
Ask anyone who tried to get through the northern gateway in those first few weeks about their experience with tolls. Nightmarish.
So ultimately we can, or at the least will accept, the prospect of paying tolls but we need some guarantees: make it work, make it worthwhile, ensure there's an alternative route that's not way off-course, don't get too greedy, run it all on an electronic tag system, and don't think of having people stuck at a tollgate while searching for coins.
And please, do us all a big favour, and do your homework first.
On the bright side, it might give public transport a bit of a boost, get some cars off the roads and free up more space for the rest of us.