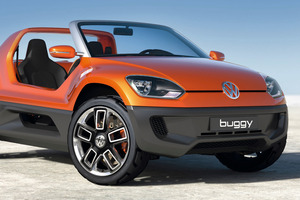 A recent patent granted in the United States hints that Volkswagen may just be considering putting the brilliant Buggy concept of the "up!" city car into production.
The Buggy concept was shown at the 2011 Frankfurt Motor Show as a homage to the Meyers Manx beach Buggy.
Of all the up!-based concepts on show, you would have to say this roofless, doorless version looked the least likely for production - despite being the most awesome.
But the US patent discovered by UK magazine Autocar indicates that VW's recently expressed desire to make more modern versions of its famous past models, such as the popular Beetle, to attract more American buyers may just make a production version of the up! Buggy happen.
Expect a production version to be propelled by the up!'s 1-litre, three-cylinder engine, but also expect it to have all the off-road ability of, well, a VW up!
On track to power trucks and buses
While the idea of electric cars and the batteries that power them is obsessing car manufacturers of the world, truck and bus manufacturers are facing a set of similar, but
fundamentally different, problems.
No matter how good battery technology gets, trucks and buses that cover huge, intercontinental distances simply cannot carry enough batteries to do the job without taking long times out for recharging.
However, Volvo may have a solution. And we can't help but wonder if their engineers didn't just take a look back into their childhoods for it ...
Last year, Volvo built a 400m-long track at its test facility outside Gothenburg that features two power lines built into the surface of the road.
The lines are sectioned so that live current is delivered only to a collector mounted at the rear of, or under, the truck if an appropriate signal is detected, and the current flows only when the truck is moving at speeds greater than 60 km/h.
Now if they just popped a slot in-between the power lines and a big pin on the truck, they wouldn't need drivers at all just 8-year-old boys frantically squeezing the triggers on plastic controllers.
Wanted: New dry home for Wet Nellie
If you are not a complete and unashamed James Bond nerd like The Good Oil certainly is then the name Wet Nellie may not mean a lot to you.
But to Bond nerds the world over, Wet Nellie is the on-set nickname of the second most
recognisable Bond car of all time; the submersible 1977 Series 1 Lotus Esprit that, along with Barbara Bach in a bikini, won the hearts and minds of pre-teen boys the world over in The Spy Who Loved Me.
And now Wet Nellie is going up for auction in London this September.
The auction house, RM Auctions, says the car cost US$100,000 to convert into a submarine (of sorts, it wasn't actually waterproof and the driver had to wear scuba gear) and that it has a rather unusual post-production history.
After the completion of its scenes, Wet Nellie was put into storage in Long Island, New York. The storage was pre-paid for a decade and the car was forgotten until the storage company put the storage unit's contents up for auction following missed payments after the 10 years ran out.
The unit was put up for ''blind auction'' where potential buyers are given no indication of what might be in it. A local couple put in the winning bid (for an undisclosed amount) and discovered the ultimate ''barn find'' hiding under blankets in the unit.
Nellie went on display briefly at the Peterson Automotive Museum in Los Angeles, but has rarely been seen in public since.
RM Auctions didn't give a pre-auction estimate for the car, but it is widely expected that the lucky winner won't get much change from US$1 million.
An absolute bargain, when you consider that Mr Bond's most famous car the Aston Martin DB5 used in Goldfinger was sold by RM Auctions in 2010 for 2.9 million (NZ$5.7 million).
Taking up space for what?
Toyota is developing a robot that can be sent into space to have a conversation with a Japanese astronaut. Kirobo is the Japanese ''robonaut'' for which Toyota has developed voice and face recognition functions that will take part in the first-ever robot-human conversation experiments aboard the International Space Station this year.
The press release does not explain why the conversations need to take place in space, let alone why Kirobo needs to look like an anime character.
Nevertheless, Kirobo will leave Earth on August 4 and is destined to have his conversation sometime in December.
Like the Alien movie tag-line says: in space, no one can hear you scream. Also in space, no one can hear you have a banal chat with a robot. Still, Honda's Asimo robot can't even open a door without falling over, so that puts Toyota ahead. Sort of.
We are the world
*A University of Virginia student spent the night in jail for buying bottled water. The student had just bought the water when a group of people ''in plain clothes'' approached her vehicle. One pulled a gun so, rather logically, she tried to get out of there. Unfortunately, the people were state Alcoholic Beverage Control officers who mistook her bottled water for alcohol. She was released in the morning and all charges were dropped.
*Outrage was provoked on Twitter after users tweeted pictures of a velvet-covered Ferrari 599 spotted on the streets of London. The furry monstrosity enraged Ferrari-lovers who will never be able to afford one and are offended by the owner's lack of respect for their favourite marque. Or maybe he just has a sense of humour. We really hope it is that ...

Number Crunching
12 CARS The number of Manx dune buggies made by B.F. Meyers that used VW Beetle engines and transmissions.
6000 CARS The number made by B.F. Meyers once it switched to a cheaper stripped-down Beetle chassis.
250,000 CARS The number of knock-offs made using the Manx design.
0 CARS The number of buggies built using New Beetle underpinnings.