Grant Edwards takes Fiat's new low-cost cutie out for a spin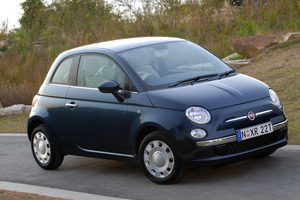 This is like finding a designer handbag at The Warehouse. The contemporary retro little Fiat 500 has dropped to a rock-bottom $19,900 for the base model Pop.
After years being confined to a niche market, the company's Australian distributor is dragging Fiat into the mainstream via its pin-up "bambino" model.
Fiat Chrysler New Zealand has just kicked off an ambitious business plan here, and the fledgling company is celebrating with this new 500 range and a rapidly growing stable which includes that other Italian hottie, Alfa Romeo.
While prices have also rolled back within the Alfa range, the new 500 range will send shockwaves through New Zealand and Australia's ultra-competitive motoring industry.
The new Fiat 500 Pop slots into the lineup under the Fiat 500 Sport, which is now priced from $24,990, and both variants are available with a self-shifting MTA gearbox as a $2000 option.
While the Fiat Chrysler team is excited about the low prices, Fiat hasn't compromised on performance, safety or comfort.
It's aggressive and outstanding value for money - and a product not so long ago that was thousands of dollars more (just don't mention it to the current owners).
You can't help but like the 500 design and styling. Within the compact cabin confines is reasonable space to accommodate four adults using a unique blend of glossy materials and plastics.
The driver has a unique view of the world with an outlook as cute as the exterior lines.
Primary gauges are large and circular, the speedometer sits on the outside, while the tacho lies within with the digital trip computer data.
Surprisingly there is reasonable room up front and even those taller than 185cm have no issue climbing behind the wheel. As expected, things are tighter in the back - the real estate is dependent on how far the front seats are pushed rearward.
In the base model Pop, things are simplistic in operation, with the flash digital stuff left to the up-spec models.
Fun is the name of the game with the Fiat 500. Best suited to the metropolitan area or around town, it is one nimble little hatch.
The pint-size proportions make parking a breeze and a button on the dash lightens the steering - perfect for when you're in traffic or those ridiculously tight concrete jungles. The 1.2-litre entry-level Pop is a quality performer which belies the figures - like 51kW. On paper it looks like it could barely pull an eyebrow hair out but in reality it is quick and responsive.
It doesn't hammer like a sports car, but it will travel nicely on the highway at 110km/h and is adept as long as you don't expect too much extravagant performance.
We sampled three of the eight variants and the best option is the manual transmission. The manuals are crisp with short throws between cogs. Fiat uses a Dualogic semi-automatic transmission, which takes some practice for the uninitiated.
It doesn't work like your traditional automatic and can be jerky with hard acceleration and it feels like a long time between gear changes. Just shifting into gear is unique, with an interesting cross configuration.
Like many other autos you can take control manually by shunting the lever forward and back, while the up-spec model has paddle shifters.
The 500's steering is direct yet light but you can really throw it around with a delightful response (a quick spin around a go-kart track proof of its ability). Hefty bumps can upset the suspension while also delivering a nasty thud in the cabin.
For that bargain-basement price, you don't expect to be in the lap of luxury, but on the standard inclusions list are a six-speaker MP3 compatible CD stereo with USB input, electric windows, Bluetooth phone connectivity, trip computer, air-con and height-adjustable steering wheel.
All models have a five-star safety rating, along with seven airbags, stability control and anti-lock brakes.
Fiat has delivered a surprise packet in more ways than one. Pricing for the Pop is jaw-dropping and puts what was once seen as a designer car within reach of many Kiwis.
It may not be everyone's cup of tea in terms of styling, but the retro look will appeal to the young and young at heart.