As one-third of the Top Gear trio, Richard Hammond is, at very least, one-third responsible for the success of one of the most popular British TV exports. Watched by 350 million people in more than 200 countries, the motoring show's reach is truly global yet, in comparison, the charismatic 43-year-old's outlook feels positively rural, as Driven discovers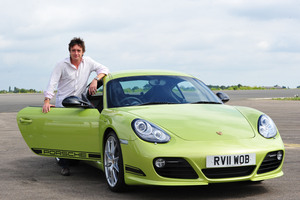 Let's get this out the way nice and early," begins Hammond, with typical jovial swagger. "Yes, I live in a castle; yes, I like riding around on a pedal bike; and yes, I live in an area of England so remote that when I have a house party it's largely attended by farmers."
With such a defensive thrust, one might imagine it was stable mate Jeremy Clarkson posing the questions. But there's neither an ill-fitting checked shirt nor a pair of tight stonewashed jeans in sight. Instead, the diminutive Top Gear presenter is reacting to a supposition that driving the world's best cars surely implies a life of tyre smoke, spoilers and Aviator sunglasses away from the television cameras.
"No, it couldn't be any more different," he admits. "I'm passionate about motors but I adore my two girls and wife Mindy, and it's great to have some downtime at home because the Top Gear schedule is pretty unrelenting at times. For every new series there are multiple trips abroad, usually in the name of some ridiculous challenge like travelling to the North Pole or finding the source of the River Nile."
In the new series, the show has made a return to New Zealand after four years away with a brilliant car versus boat race up Ninety Mile Beach.
"We've always had a lot of fun in New Zealand; we tend to have a lot of fun wherever we go. Aside from the travel, it's interesting to see how different nations approach motoring. You have some who live for it, while others are still taking early tentative steps. China is always the classic example - in some places it's as if you're stepping into a parallel world where none of the cars is quite as you expect, with a vast range of 'fakes' masquerading as luxury brands. That really takes a bit of getting used to."
Certainly the continued rise of the Asian market has some manufacturers holding back on long-term production plans. Hammond admits the challenge is a serious one.
"Anyone who hasn't got their head around the strength of the Asian market needs to do so, and quickly. China is going to saunter across the path of so many other countries over the next few years, I promise you. They have the skill set, the technology, the cost base and, most importantly, the confidence.
"Why? Because they've seen their Japanese cousins go for exactly the same market and grab it.
"But it's difficult not to like the Japanese brands. Take Nissan - they are a key employer in the UK automotive industry, they push the envelope, and every time I look at the Juke I think of a loveable chubby younger brother."
But what does Hammond make of New Zealand's ageing bevy of cars? Recent figures have shown the country to have one of the oldest fleets in the world, with an average age now close to 14 years.
"You can take the positives from ageing car fleets, and it's a global phenomenon that's going to continue for a good while yet. With the current economic situation, older cars are a useful 'go to', while improved engine and body technology means that, more than ever before, these cars can handle use over a decade and longer.
"Naturally, you have to counterbalance that by looking at emissions, but it's wrong to assume old cars are bad cars. There are plenty of bad modern cars too!"
And in truth, the arguments over emissions have never been too close to Top Gear's heart. You won't, for instance, hear Jeremy Clarkson bestowing the virtues of a hybrid car. True to form, Hammond is slightly more accepting of the reality that petrol alternatives will have to be sought at some point.
"The thing is, hybrid systems are complicated systems. It's a lovely thought, in theory, but just not a realistic one. All the major manufacturers have tried it, even Porsche, but the electric contribution still needs improving radically in terms of how long it works for before the motor kicks in, because some manufacturer claims seem to be way off the mark. As for diesel, it's efficient once the car is sat on your driveway, but getting it there in the first place is becoming more difficult in terms of the car purchase price.
"Ninety per cent of BMW 7-series are diesels. That's a big statistic to try to shift. Ultimately, I may not be the biggest diesel fan in the world, but is it better than the other options we have - electric, hybrid, plus some of the hydrogen technologies? Definitely."
So back to Hammond's opening gambit then, and the rural life. With such an idyllic retreat away from the noise and bustle of the media world, surely the presenter is too busy at the local summer fayre to have caught any of the Top Gear licensed overseas shows?
"Okay, so I might have seen a couple," he smirks. "But listen, I think that every time the series is recreated, it's a huge compliment to Clarkson, May and myself, and to all the guys behind the scenes. What I would say is I do often wonder which of the three guys is meant to be me. At some point one of the presenters will get out a train set, so you know that's May. Another presenter will upset someone - that'll be Clarkson. So by process of elimination I learn which one I am.
"Joking aside I think using the same formula for a show is probably a good idea. It's worked for so many other licensed programmes, and I know the Australian version boomed when it was confirmed we hadn't sent our own Stig over there - I mean, we wouldn't wish that on anyone.
"I guess over time each needs to adapt to its own style, and that's what will happen."