Big names come and go in the car industry. David Linklater looks at some recent comebacks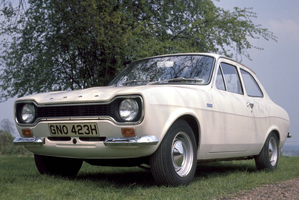 The car industry is a bit like film and fashion: it thrives on new developments, but sees plenty of collateral in rebooting the old stuff at the same time. Case in point: there are some classic names coming back into showrooms - badges that we all thought were long gone.
Classic reinvention or a crippling lack of imagination? You decide. But here are five automotive names you'll find awfully familiar.
DATSUN
Datsun will return as Nissan's third global brand in 2014. But not Nissan as we know it: it'll be an entry-level range of cars for markets such as India, Indonesia and Russia. It's been a while: the Datsun name was phased out from 1981-84, although the change had been hinted at long before, with subtle "Nissan" branding on many models.
First car to have the name: The 1932 Datsun 11. It replaced the Datson 10; Nissan changed the spelling when it took over the company to reference the rising sun in the Japanese flag.
The original brand indicated a smaller addition ("son" of) to the existing DAT lineup.
Best car to have the name: The most famous and arguably best would have to be the 240Z/Fairlady from 1969. Even if it was named after a musical.
ESCORT
Ford brought the Escort name back with a "concept" sedan at this year's Shanghai Motor Show. In reality there's nothing conceptual about it at all - it's a preview of a Focus-based model that will almost certainly go on sale in China next year. More likely than not, Ford had the American Escort in mind when it decided to revive the name.
But that's not the real one to you and I, right?
First car to have the name: Not the one you're probably thinking of. A version of the 1955 Ford Squire was to some classic old names called Escort. The "real" Escort we all know and love was launched in 1968.
Best car to have the name: The 1968 Mk1 Escort is an icon. It's also about to become really famous again in popular culture - who'd have thought it would be Vin Diesel and Paul Walker that would do it?
MIRAGE
We Kiwis used to love our Mirages and Mitsubishi New Zealand won't let us forget it, as the advertising campaign for the new model suggests that we "do it all again". Do what exactly? New Mirage has very little in common with any of the old Mirages, being much smaller and sans a cylinder. Good fun though. Globally, Mirages have often also been Colts and vice-versa. It was the Colt that killed Mirage in NZ in 2002. Switching badges around? Let's do it all again.
First car to have the name: A front-drive hatchback in 1978.
Best car to have the name: As above, obviously. The original Mirage was a one-time top-seller in New Zealand and boasted "Super Shift" - a four-speed manual gearbox with dual ratios. Make mine a Panther.
TRIPLE-S
Nissan's legendary "SSS" badge is coming back on the humble Pulsar hatchback. The soon-to-be-launched hot-hatch has a 1.6-litre direct-injection turbo engine making 140kW, which sounds promising. It also has a continuously variable transmission, which might seem an odd choice for a sports car - but Nissan has a long history with this technology, so let's wait and see.
First car to have the name: In 1964, Datsun realised that an extra S could make its highly regarded Bluebird SS even hotter. It tested SSS versions in circuit racing and rallying, before launching a production Bluebird 1.6 SSS in 1965.
Best car to have the name: Let's go for the Datsun 1200 SSS special edition built in New Zealand in the 1970s.
WRAITH
Reviving model names from the past is standard operating procedure for Rolls-Royce. Especially when the names are a bit spooky.
Wraith is a ghostly image of somebody seen shortly before or after their death: thin, insubstantial. Odd, as the latest Rolls-Royce Wraith is quite substantial indeed.
A coupe that's claimed to be the fastest and most powerful car ever built, the Wraith is based upon the Ghost (in turn based upon the BMW 7-series platform) but features unique technology, such as an eight-speed gearbox that is able to anticipate what the road is like ahead thanks to help from GPS and the satellite navigation system.
First car to have the name: A rolling chassis supplied to coachbuilders by Rolls-Royce from 1938-39.
Best car to have the name: The most rapid Rolls ever made, naturally.