Jacqui Madelin meets a father-and-son team who are out for a good time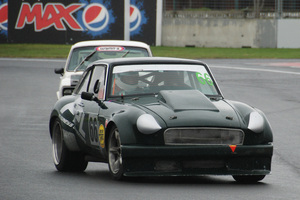 Todd Forsyth must have shares in a fuel company to run this much-modified 1974 MGBGT, spotted racing at Pukekohe one recent rainy Saturday.
He remembers childhood days sitting on the bank watching his dad race, then spinning spanners alongside him since his teens, when they built an MGT replica.
"He's a useless mechanic, he's an accountant," he says - but a sensible one, as he put young Todd into an apprenticeship as a fitter-turner.
When his dad bought this MG chassis and body it lacked an engine and Todd got to work to create a race car for Targa and the Tracer Wheels series.
Had he built up a car before? "There's a first time for everything ... "
He stripped the interior - "the bits are long gone, the car club swallowed them up" - and the MG went on a chassis machine to be pulled straight, before the cage was welded in and the body panels and Sebring fibreglass body kit fitted.
"We got a 4.6-litre Rover engine from a Stag 4x4, fitted a Supra close ratio gearbox and SS Commodore rear end, plus coilover suspension with the original single leaf spring in the rear to help keep it within the classic rules."
Work finished the night before that first Targa event, with dad driving and Todd in the navigator seat.
"The car performed faultlessly, nothing went wrong and we won the highest-placed parent and offspring, and our class."
The pair campaigned a season in the Tracer Series, dad driving and Todd as spannerman, before handing the wheel to "Racing" Ray Williams for three years of Targa: "He was quicker! He had a few crashes as well."
For a while Todd had an old SD1 Rover Vitesse, and father and son raced different classes, with Todd tackling Targa in other cars. But he eventually bought a four-cylinder MGB, which put him in the same class as his dad for the first time.
"I passed him ... on the warm-up lap," comes a voice from within the pit tent. "But after that he was in front."
He sold the MGB as it was too tidy to survive a racing incident and bought this car off his dad.
It's now a 5.1-litre using the Rover block - which keeps it within the rules - plus Wildcat heads, JE pistons, Carillo rods, a dry sump and Tremec TK0 gearbox "the same as the Falcon/Commodore" and a limited slip diff.
The big wheels it had for the Super GT class will go soon, as will the bonnet scoop.
"We realised we'd never keep up with the budget so we're bringing it back into spec for the classic class."
That will include headlights, and a seat in the passenger side - though the Super GT-era wide guards remain and the car's still pretty basic.
This is a sociable class; there are points to fight for - "but we're only racing for chocolate fish" - and the first outing decides places in two handicap races, points increasing each time out "to stop us all going home early!" As if ...
I go out to watch, under heavy rain showers. Rain turned the track into a skating rink and cars speared into the grass, roared past in showers of spray, skidded and wriggled round corners or spun, while nearby cars scattered.
The MG seemed a handful in these conditions but Todd wasn't phased by his spin - "shows I was trying!" And it illustrates how much removing the spoiler to fit class rules affected the car's balance, "We put the small boot spoiler on, but there's still not enough downforce and the tyres don't work enough."
Still, he's having fun.
The Forsyths manage six or so meetings a year. At $200 an entry, a set of tyres each season and whatever else needs doing, it's much cheaper than Targa and they love it,
"The camaraderie of the other guys, some fantastic fast races with heaps of adrenaline and speed, and to be able to share it with dad."
Why not a new car? "There'd be no challenge - they're too easy to drive. And half the fun is going into the workshop on Saturday morning."
But it's race-time again, sandwiches are set aside as adrenaline levels rise, helmets go on and the cars rumble to the grid, lumpy V8s idling and drivers' throttle feet twitching.
After all, as Todd says, "Where else can you legally do 260km/h flat out!" And do it in a classic, too.