New engine 'family' delivers performance and smoothness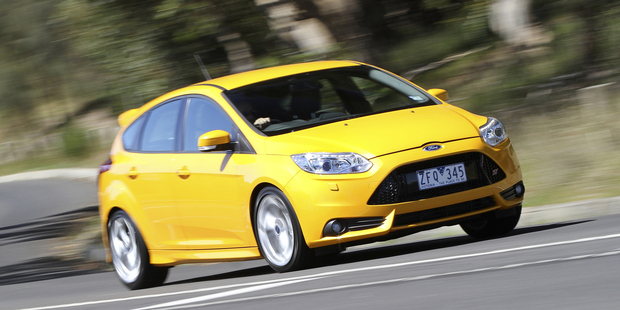 If you listened to the hype, you might think Ford's new EcoBoost engine family was magic: it's become a revered brand in an astonishingly short space of time, known for combining low capacity with high output and outstanding economy.
What's the big deal? Ford has invested heavily in EcoBoost technology and will offer it in 80 per cent of its models worldwide by the end of 2013. It's not a single powerplant, but rather an engine family that incorporates some very specific technologies such as turbocharging, direct injection and variable valve timing, in very specific ways. Ford has filed over 125 patents for EcoBoost.
Ford has introduced a new EcoBoost engine every year since 2009: starting with a 3.5-litre V6, then 2.0-litre and 1.6-litre fours, a 1-litre three-cylinder and the just-announced 1.5-litre four - engineered for countries that give tax breaks to powerplants under 1.5-litre capacity.
So no, EcoBoost is not magic. But it does appear in some unexpected places. It's becoming prolific in Ford models of course, but it's also a favourite for Jaguar Land Rover (JLR) and Volvo.
Both are former Ford subsidiaries, with many current models engineered under the Blue Oval: JLR was sold to Indian giant Tata in 2008 and Volvo to Chinese maker Geely in 2010, but both companies buy EcoBoost engines from Ford under contract.
The 1-litre even had an outing in a one-off Formula Ford racing car in Europe last year. The road-legal single-seater set a cracking pace around the famous Nurburgring circuit in Germany: its time of seven minutes 22 seconds made it the 11th fastest road-legal car around the track, beating the likes of the Lamborghini Aventador and Ferrari Enzo.
Ford has manufactured over 600,000 EcoBoost engines since 2009. By the end of this year, it will have the capacity to build 1.6 million annually across six different plants, in Europe, Asia and North America.
Currently, only two of the five EcoBoost engine variants are sold in New Zealand: the 2-litre and 1.6-litre four-cylinder units. But there's been a surge in the number of models using them in the last 12 months. Which ones? Glad you asked ...
FORD FALCON XT
$48,880, 179kW/353Nm, combined economy 8.1 l/100km.
The Australian large-car segment is shrinking by the minute. But the humble Falcon still has one claim to fame: it was the first rear-drive car to be powered by a four-cylinder EcoBoost engine. Not the last, though, as future models like the new Mustang will follow suit.
The "Falcon four" might bother Aussie traditionalists but this model gives its six-cylinder siblings a run for their money in terms of performance and smoothness. Economy, of course, is no contest.
Sadly, Ford New Zealand has limited the appeal of the EcoBoost Falcon somewhat by restricting the high-tech powerplant to the cheapest, fleet-focused XT model. In Australia, it's also available in G-series sports/luxury specification - a nod towards the enthusiast status that this powertrain certainly deserves.
FORD FOCUS ST
$52,840, 184kW/360Nm, combined economy 7.2l/100km.
EcoBoost can be as hot as you like. It's going to be synonymous with Ford's ST performance range in the years to come, starting with the new Focus ST launched last year.
Aside from searing performance, the Focus ST EcoBoost is notable for a couple of things: it's the only vehicle in this group available exclusively with a conventional manual gearbox, and it's the most powerful EcoBoost car you can buy in New Zealand but also happens to be the most economical. That's partly because it's also one of the lightest and smallest of the group, but it's still testament to the sheer efficiency of EcoBoost. A Fiesta ST EcoBoost will be available in New Zealand later this year.
FORD KUGA
$39,990-$52,990, 134kW/240Nm, combined economy 7.7l/100km.
The all-new Kuga is the latest entry in the burgeoning compact-crossover segment. In petrol-powered form, it's also the newest model to be launched with an EcoBoost powerplant and the first to offer the technology in a 1.6-litre capacity. Kuga also happens to be the least expensive EcoBoost-powered model on sale in New Zealand.
The Kuga has an edge over the mainstream Focus, which is available as a 1.6-litre but won't come with EcoBoost technology until next year. But for the ultimate incarnation of this 1.6-litre engine, look out for the Fiesta ST in the next month: It makes 132kW/269Nm and can hit 100km/h in 6.9 seconds.
FORD MONDEO
$48,340-$53,340, 149kW/300Nm (Zetec) or 177kW/340Nm (Titanium), combined economy 8.0l/100km (Zetec) or 7.7l/100km (Titanium).
EcoBoost is one of the key elements keeping Mondeo fresh - remember that the current body shape was launched in 2007 and will be with us until next year.
The Titanium model has just received a power boost to Ford's international "Mondeo 240" specification, giving it power and torque almost equivalent to the Falcon XT. The less luxurious Zetec model keeps the standard state of tune.
JAGUAR XF i4
$90,000, 177kW/340Nm, Combined economy 8.9l/100km.
Jaguar Land Rover does not use EcoBoost branding. Mere semantics, for the engine used in many of its models is the same Ford powerplant that you'll find in a Focus, Mondeo or Falcon. Thanks to EcoBoost, the Jaguar XF seems to get better the further down the range you go. We were already impressed with the 2.2-litre diesel, but this same-price EcoBoost - sorry, i4 - version is simply a superb executive car for the money.
LAND ROVER FREELANDER Si4
$66,000, 177kW/340Nm, combined economy 9.6l/100km.
EcoBoost has given the oh-so-familiar Freelander a much-need lift. The latest Freelander picks up the 2.0-litre Ford engine, matches it to four-wheel drive, and makes the case for EcoBoost perfectly in the process: the new powerplant is more powerful than the six-cylinder unit it replaces, yet it's 14 per cent more economical.
RANGE ROVER EVOQUE Si4
$86,500-$103,000, 180kW/340Nm, combined economy 8.7l/100km.
Once again, but with a bit more feeling: fashion-forward Evoque employs the EcoBoost engine in virtually the same state of tune as the Freelander. The 2-litre drives all four wheels through a six-speed automatic gearbox.