BMW pares back its sports sedan to unleash something that's just a little more Pure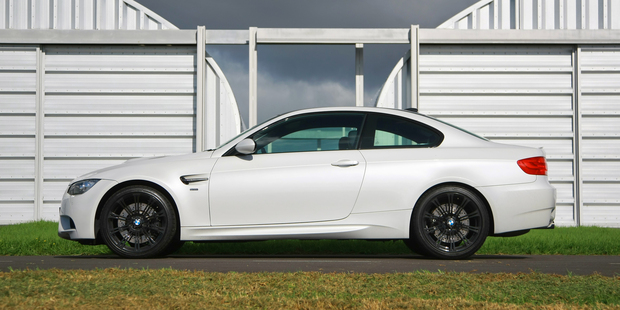 Sadly, BMW's V8-powered M3 is on its way out. This is bad news for those who enjoy the sound of a hard-tuned eight hitting an 8000rpm redline - but there's one last chance to enjoy that racecar-like wail before the car gets a turbocharged engine that will deliver all of the M car thrills without the excessive soundtrack.
BMW has released the M3 Pure - paring back some of the fancier features to achieve a better price for the car, with 20 available at $149,900. The loaded 'standard' M3 manual will still set you back $159,600.
Keyless entry and start have gone, as have adaptive headlights and the Harmon Kardon sound system and folding mirrors. But the Pure still packs in some strong features like sat nav, bi-xenon headlights, parking sensors and a full carbon-fibre roof. The high-spec Novillo leather is gone too, but cloth and leather sports seats are fitted, and there are nice M touches like embossed headrests, rain-sensing wipers and a leather-wrapped handbrake - again with the logo neatly added.
The M3 has always been one of the sharpest tools in the M Sport workshop, and our test car had the added $3800 M Drive option, which allows drivers to set the car up to their own style.
This is best executed as a go-fast spec, which can then be called up with a single button push - the circled M on the steering wheel.
Outright automotive grumpiness can be set up, including less traction control intervention and harder (and faster) gear changes.
There are still four litres of fury under the bumpy bonnet, with 309kW and 400Nm combining to hurl the car to the legal limit in just 4.6 seconds - more than enough to get the heart beating and paste a dopey grin across the face.
Around town, in the interests of comfort and social responsibility, it's best to back off the car's ferocity as much as possible, and it's perfectly usable as a daily driver, albeit one that you wouldn't park just anywhere.
But the CBD is not the natural environment for an M car.
Once the outer suburbs' McMansions give way to more rural climes, a quick prod of the magic button sees the car's demeanour change completely and it becomes an absolute animal.
On the track, the M3 proves that although there's a rego plate at each end, it can be as ill-mannered as anything else, with a back end that's eager to swing around, but in an immensely controllable way.
It will bite if you push it too hard on the road - especially exiting bumpy corners with foot flat - but is a surprisingly easy car to drive in an, er, spirited fashion.
Where the big power of the M5 and M6's 4.4-litre twin turbo is impressive, there's something pretty special about hooking cog after cog through the seven-speed double clutch robomanual gearbox, while shift lights appear around 7200rpm urging you to keep climbing through the gears as the naturally-breathing eight pot sings its wonderful song.
Once the engine winds up to 3500rpm, those within earshot are treated to one of the nicest sounding V8s available on the market. It's no lazy throb a la the big Aussie eights, with a noise and attitude more race than rumble - and crackling downshifts to go with it.
With a near 50/50 balance, once the traction control has been backed off to its rightful place, the Pure can be driven fairly enthusiastically on the throttle and won't get too far out of hand unless mistakes are made.
When you're sitting on $150,000 of snarling beast, it's recommended to try and avoid these.