Tyre troubles plague team, writes Eric Thompson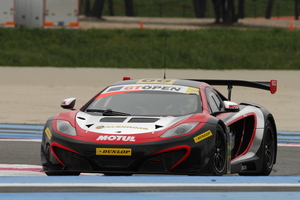 New Zealand professional racecar driver Chris van der Drift is taking the positives from the opening round of the International GT Open Championship at the Paul Ricard circuit in France.
The former A1GP, AutoGP, Superleague and World Series driver, received a last minute call-up to contest the series with the Italian-based Bhai Tech team in a second McLaren MP4 12C GT3 with Brazilian Luiz Razia.
"The drive was all last minute as it always is," said Van der Drift. "It all started out on the back of last year, racing in the Italian GT championship, and I've done three or four shakedowns on the car for them.
"They want me to continue so my management did a deal with them and so here I am. The plan is to do the whole season unless something else happens. It's all good to be able to plan for a season rather than a one-off race."
Van der Drift campaigned a couple of the Italian GT rounds with the outfit and they liked what they saw and signed him up for the eight-round series, which started at the Paul Ricard track last weekend.
The pair were quick in practice and qualified fourth fastest and looked good for a top finish in race one before being punted off and having to head to the pits for repairs.
Race two wasn't much better but the team managed to finish - albeit in 15th place. Again things were going well early in the race until the first pit stop when the pit crew couldn't get one of the rear wheels off and lost a lot of time. And to compound things, there was a mechanical drama when the crew couldn't get one of the rear wheels off the hub.
"I didn't want to waste any more time trying to get the stuck rim off so it was all a bit of a Mickey Mouse race. At least it can only get better," said Van der Drift.
Using a race to undergo testing is a big ask, but Van der Drift and his team have taken a number of positives and have learned a lot over the weekend. Their next race is in two weeks at Portimao, Portugal, and unfortunately he's not going to be able to get testing before then. "The other car had a massive shunt on Saturday that wrote it off," said Van der Drift. "It has to go back to McLaren.
"There's a bit of work to be done on our car as well and it won't be after Portimao until we really get any time to do some decent testing," he said.