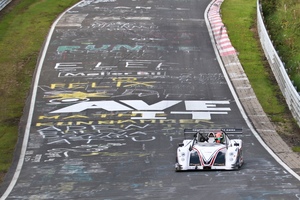 Got a spare $200 million or so lying around? Then have we got a deal for you. How about your very own Nurburgring?
No, that's not a model of the Nurburgring, or even a real track just like it; it's the real thing, including the arena, the museum, the useless roller-coaster and the legendary Nordschleife. All for a measly NZ$200 million.
After being unable to secure financing and also being massively in debt the German
Government-owned facility filed for bankruptcy last year. Although billionaire Formula 1 Supremo Bernie Ecclestone was said to be interested in buying it outright, nothing eventuated. That's not saying he isn't interested, more that he is probably waiting for the
price to be more to his liking.
Since then the list of about 50 interested parties has been whittled down to ''between five and 10'' serious potential buyers, says liquidator Jens Lieser.
Reassuringly, Lieser also told Bridgetogantry.com (an unofficial Nurburgring blog site) that there was ''not a single Oligarch or Sheik among them'', reducing the likelihood of the `Ring becoming a billionaire's private playground. For now, at least.
Honda's lawn of the future
Honda have touted their rather useless Asimo robot as the way of the future for quite some time, but now it seems that they have finally come up with a useful robot one that mows your lawn.
Unveiled at the Palm Beach PGA Tour event, the Honda Miimo robotic lawnmower has already gone on sale in Europe and promises to take all that unnecessary hassle out of
life by mowing the lawns for you. Similar in concept to robotic vacuum cleaners, Miimo requires a boundary wire to stop it from wandering off, but also features 360-degree
sensors to help it avoid birdbaths and ''project cars'' rusting in the back yard. Rather than one big mow every few weeks, Miimo takes to the lawns several times a week, lopping
off a small amount each time. It also senses when its lithium-ion battery is getting low and will return to base for a top-up.
Production for sexy Sergio?
The stunning Pininfarina Sergio Concept that debuted at the Geneva motor show may now actually be heading for production. Albeit in very limited numbers.
Based on a Ferrari 458 Italia, the two-seater barchetta was said to have been inspired by "Ferrari models of the 60s and 70s" and was revealed at the Geneva show as a tribute to legendary designer and former chairman of the Italian design company, Sergio Pininfarina, who died last year.
Current Pininfarina CEO, Silvio Angori, said the company was "considering a very limited run of five to six units" and that plans to make the concept street legal (including fitting a windscreen to comply with European homologation standards) were well under way."We already know how and where to modify the Sergio concept car to make it into a compliant, street-legal model," Pininfarina chief designer, Fabio Filippini, said.
The biggest catch could be the price - thought to be about US$3.89 (NZ$4.7) million apiece. Although Lamborghini did manage to charge the same amount for the three examples of the hideous Veneno that it also unveiled at the Geneva show, so there is certainly hope for the gorgeous Sergio.
The Rotary that wouldn't die
Mazda is far from ready to let the idea of a successor to the RX-7 die, it seems.
The company recently revealed it is still discussing the possibility of developing a rotary-powered sports coupe to sit at the top of the Mazda range and act as a rival to future versions of Nissan's Z-car.
Rather confusingly said to be possibly called the RX-9, the new car would not repeat the RX-8's four-door layout, but would instead be a dedicated two-seat, front-engined,
rear-drive sports car.
In an interview with UK magazine Autocar, president and CEO of Mazda Motor Europe, Jeff Guyton, said: ''We have a history of doing things a little differently.
''The rotary is clearly part of Mazda's soul, which confirms absolutely nothing. But it is nice to know they are still thinking about it.''
We are the world
While the cars they make to sell to the rest of the world increasingly are meeting modern safety standards, your average Chinese motorist may not be quite so concerned about safety, if the latest fashion trend in China is anything to go by seatbelt print T-shirts. They feature a black diagonal stripe that runs from the left shoulder and is aimed at
fooling your average e the car as it passes. The penalty for not wearing a seatbelt in China is 50 Yuan ($9.70) and the loss of two points (out of a possible 12) from a
driver's licence.
Russian bus driver Alexei Volkov, who has clocked up more than a hundred traffic accidents in recent months, is becoming a folk hero in his home town of Zelenograd. Insurance fraud set-up accidents, in which drivers cut in front of their victims then slam on the brakes (the car behind, which does the hitting, is usually always blamed in local courts) are rife in Russia, so Volkov decided to do something about it he bought a
dash-cam, mounted it on his bus, and simply drove into anyone who cut him off.
Volkov known as The Punisher says his employer has no problem with his vigilante
justice, because the bus is rarely damaged, and he has never been found guilty of an offence because he has video evidence of the other parties' wrong-doing.
Number Crunching
11 US DOLLARS The cost to Ford, per car, to fix the Pinto fuel-tank potential for rupture if it had recalled it in 1978.
14 MILLION Biggest recall when Ford realised faulty cruise control switch could overheat.
134 THOUSAND Toyota FJ Cruisers recalled worldwide because worn seatbelt anchors can become detached.
310 AMERICAN BACKSIDES Damaged by corroded tailgate cables failing, causing a GM recall