Rolls-Royce's top of the class is much more than a car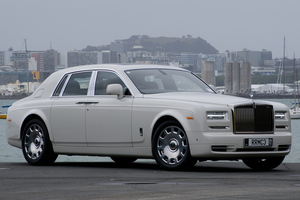 When your average motoring journalist gets hold of something like a Rolls-Royce, the immediate temptation is to do something wildly inappropriate with it. I consider myself very average indeed, so when I got hold of the latest Phantom Series II I did something very inappropriate indeed: I drove it myself.
In case you don't know your Royces, the Phantom is the largest, most exclusive and most expensive model. It's a motor car mainly for those who like to sit in the back, enjoying sumptuous leather and utter silence. Privacy too, for the rear seat of the Phantom is positioned so that the face of the occupant is slightly obscured by the substantial C-pillar. Although said occupant also sits 18mm higher than the driver, for an uninterrupted view ahead. One would expect no less.
That said, most other luxury carmakers place rather a lot of emphasis on the driving experience and this is something that has not been lost on Rolls-Royce. It has produced the smaller Ghost, which is very much a car to be driven. Most of the changes for Phantom II are focused on the people up front, not the ones in the back. Let's face it, the latter have always had it pretty good anyway.
In Series II form, the Phantom's 6.75-litre direct-injection V12 drives through an eight-speed automatic transmission and new-design differential. It's all sourced from the parent company, BMW, and brings the Phantom into line with the smaller-but-newer Ghost. The new powertrain brings smoother performance and a 10 per cent improvement in fuel efficiency. Yes, thought you'd like that.
The Ghost remains the quicker conveyance, of course. But the Phantom is far from tardy (0-100km/h in 5.9sec) and can be ordered with a dynamic package that brings firmer suspension, different calibration for the transmission, a thicker steering wheel and visible exhaust pipes. When you can see the pipes on a Royce, you know it means business.
This is a 2.6-tonne car that's nearly 6m long, so it's a bit like steering a Riva speedboat. But once you overcome the "worst-case scenario" mindset, it's amazing how quickly the Phantom can cover ground. Sheer straight-line speed helps, but it also has a relaxed gait through corners once you learn that it's soft but exquisitely controlled.
Larger wheels are not on the agenda, not really possible: standard size for the Phantom is a 21-inch rim, which still looks kind of small. Without the privilege of seeing one in traffic, that's the best indication of how large this car is.
Inside, the Phantom Series II has an upgraded satellite navigation system, larger 8.8-inch touch screen and driver assistance features including surround-view cameras for parking.
You can spot the new Phantom by its new front bumper and one-piece stainless-steel grille. It's the first production car in the world to have 100 per cent LED headlights.
Luxury? Don't get me started. It can be ordered with anything and everything. Customers often dream up outlandish items of equipment and Rolls-Royce Bespoke makes them.
But gadgets, high-quality materials and superlative refinement you can have on any number of luxury cars.
What makes a Rolls-Royce special is on-road presence and the knowledge that everything is built by hand. I could easily fill this issue of Driven with a detailed description of how each Phantom comes together: 60 individuals contribute a total of more than 450 hours.
But as a snapshot, consider this: the wafer-thin silver pinstripes on our car were painted by hand. You know, by a man with a brush. Each line took three hours to apply, using only squirrel- and ox-hair brushes.
If you're a Rolls-Royce purist, the Phantom is still the real one because it's based on a bespoke aluminium spaceframe, whereas the Ghost is built on the underpinnings of the BMW 7-series. That's why the enormous Phantom is still only 100kg heavier than its smaller stablemate, which is remarkable.
The Phantom is also still a Rolls-Royce that's available only to an extremely select group of clients. Rolls-Royce Motor Cars Auckland does not like to talk about the price of a Phantom because each one is built to order and 95 per cent of customers employ the services of Rolls-Royce Bespoke. But $780,000 is an indicative price for the vehicle you see here.
So a Phantom exists on a plane that mere motoring writers cannot really identify with. It's hard to put the car in context because it's hard to put yourself in the shoes of a potential buyer.
Perhaps that doesn't matter, because the Phantom aims to be larger than life. I can tell you that it's really good fun to drive.