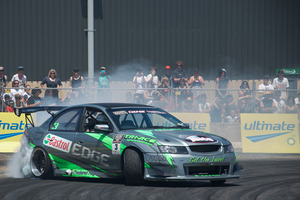 At the halfway point of the Cody's D1NZ Drifting Championship, Whangarei's Daniel "Fanga" Woolhouse and his LS3-toting Holden Commodore, now have a staggering lead over closest rival Andrew Redwood.
More than 5000 spectators spilled into Mt Maunganui's Baypark Stadium last weekend to watch the region's first official D1NZ event.
The team at D1NZ delivered once again with a tight and technical course, lined with unforgiving concrete barriers and small margin for error.
To say the top 16 kicked off with a bang would be a gross understatement. Three-time Drift King and top qualifier Gaz Whiter hit the wall hard in the first top 16 battle of the day and onlookers were silent as they waited for emergency staff to pull him from the wreckage.
Thankfully it was not long before the former champion emerged unharmed, and the now significantly shorter Tectaloy Nissan Silvia was hoisted off the track.
The day after the crash Gaz was in good spirits although he was unsure about the fate of his Nissan Silvia, stating he was, "Feeling like an 80-year-old today - The car is getting inspected now, hope we can save it".
Another notable casualty was crowd favourite Mike Whiddett and his Redbull/Speedhunters Mazda RX7. The quad rotor-powered monster made light work of the tight s-bends in the qualifying stages, but fell victim to the same concrete barrier as Whiter in his top 16 battle and then again in his top eight showdown with the up and coming Nico Reid in his Nissan Silvia.
Worth a mention was Aucklander Hugo Mclean, who is a member of the world-renowned Hoonigan Racing Division, and now a serious competitor this season.
Mclean pushed his Toyota Levin to a podium finish after finding himself in 25th position in Saturday's qualifying round. He scrapped it out with Reid in a tight contest for third place,
The round's decider came down to D1NZ veterans Dan Woolhouse and Andrew Redwood. Both of whom drive different chassis (VZ Commodore and FC RX7), that are powered by almost identical GM engines. This dynamic has meant that almost every time the two do battle the margins between their pushrod-powered beasts are minimal.
Unfortunately for Redwood and the Achilles Radial drift team, Woolhouse easily slid to the top of the podium, after Redwood spun his Mazda while chasing Woolhouse in the first pass of the final proceedings.
At the end of the weekend, Woolhouse once again stood at the top of the podium.
The Castrol Edge team are looking seemingly untouchable if the first half of the D1NZ series is anything to go by.
Winning two from the three rounds so far, and only succumbing to last year's champion Curt Whittaker in the first round, it certainly looks like the 2006 champion is on track to reclaim the title of New Zealand's Drift King.