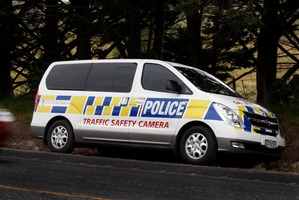 Do you ever speed on public roads? No, neither do I. And while I'm fairly sure there's a Tui billboard in there somewhere, the Ministry of Transport's latest survey shows open road behaviour is improving.
I should be more specific, sorry: open road behaviour when it comes specifically to speeding.
The survey, released exclusively to the Herald this week showed that the percentage of drivers exceeding the open-road limit dropped from 31 per cent in 2011 to 25 per cent in 2012. That's not bad.
What is potentially bad is the vow by Associate Transport Minister Simon Bridges to push ahead with anti-speeding initiatives he could not yet reveal.
Pardon? Does this mean another glorious system like the speed cameras that won't be used for general cash-chasing purposes and will target only the top 15 per cent of speeders? Cameras located only in bad crash blackspots and Speed Camera Area signs to help further reduce speed in those areas? Well, that worked out well.
A fair assumption is that among the minister's little box of tricks are speed camera systems that take an average reading of our road speeds over a given distance. They've been tested here and are common overseas.
Now this is great technology for events like Targa, but I'm reasonably uncomfortable with the concept for general road use.
We'll be shown statistics that show just how many lives it's going to save and how fair and just it will all be.
What else is in the armory for this war on speed will remain a tightly guarded secret because Simon says. This need-to-know business would indicate that one of the largest and potentially most powerful groups in New Zealand, the road user, is being kept in the dark about potential systems that will govern something most of us do every single day.
The Government wouldn't sneak through new speed control systems without giving those affected - the bulk of New Zealand - a chance to at least see what's going on. Yeah right.