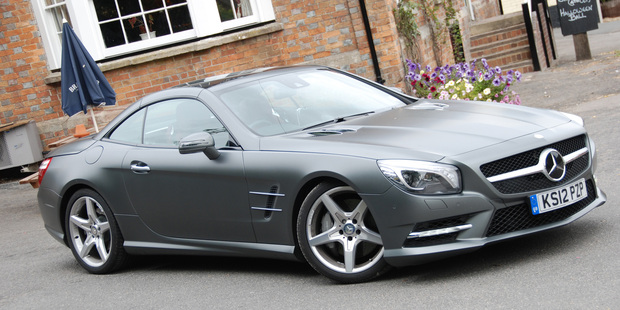 Mercedes launched the SL with a drive day in chilly September, but we went the full Monty - instead sampling it in summer weather, with 800km over a week of driving that included a trip away fully loaded. That meant not only packing for a work event, plus a family weekend, but fitting a dolls-house in the boot, too.
We'd have laid money that even if it fit, the (car's) roof would have to stay up however sunny the weather to hold the full 504 litres. That it still folded and allowed space for clothes is proof of the packaging miracle Mercedes' style-meisters have wrought in penning a car that is both aggressively elegant and useful.
It's also pretty damn quick thanks to weight cut from an all-aluminium body, and a 4.7-litre 320kW/700Nm twin-turbo V8 engine sending power to those overworked rear tyres via a seven-speed auto transmission.
Phenomenal acceleration is yours at a tap of the throttle along with a feral soundtrack entirely at odds with this car's opulent red leather interior.
The cabin is designed for the long-distance cruising at which the SL excels. But the car's also surprisingly nimble despite its generous dimensions and still-hefty weight, in sport mode at least, when the accurate steering and fat rear rubber conspire with this outrageous motor to fling you through a set of bends, if not with the agility of a 911, at least with the sort of panache any red-blooded buyer will enjoy. That buyer will need a fair chunk of wedge, your $265,000 accessing Bluetooth "hands-free telephony", reversing cameras and active park assist, an electric draught stop and air scarf to keep you warm when the roof is down, and a TV tuner to entertain you if the cabin proves too cosseting to want to leave it at your destination. But the piece de resistance is the optional panoramic sunroof with Magic Sky Control ($5850): press a button to turn the clear glass opaque, blocking the sun's rays and the gaze of envious passersby.