It's a Kiwi car-star, so we'll use it to rank the world's top designers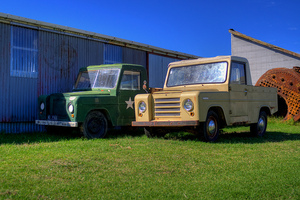 What do a 1970s New Zealand-made Trekka and any Lamborghini have in common? Nothing ... and everything.
The boxy, homely Trekka just sort of happened. You can almost see a couple of jokers sitting down at smoko and drawing up some body lines on the back of an envelope to fit around the chassis and Skoda engine.
Lamborghinis, and indeed most cars, are designed with care, attention and millions of dollars. In the corporate psyche of many auto manufacturers, design is everything ... styling sells cars.
Although the Trekka represented one design extreme, a position some would argue it shared with the original Jeep and Land Rover, the New Zealand-made utility vehicle sold in reasonable numbers. That was less because of its looks than because it appeared when overseas-made new cars were scarce and wickedly expensive.
Today, a vehicle looking like a Trekka would be sales-proof and an amusement to the auto industry's influential styling rock stars who push the design hot-buttons.
Good auto styling today knows no national boundaries. The studios in Japan and Korea, for example, are turning out designs to rival those of the Italian masters.
So New Zealand, which takes cars from all corners, has a well dressed fleet. Here's an alphabetical nod to a dozen top designers who have taken us light years beyond the Trekka.
But the Trekka was worthy in its own way and now has a following among old-car enthusiasts. In homage to our indigenous design, Driven's assigned each of the dozen a Trekka rating, from one to five. The more Trekkas, the better.
Chris Bangle
Trekka rating: 4
Why he's hot: Just look at any new BMW
Now running his own studio in Turin, 56-year-old Bangle, born in the USA, reshaped the shapes of BMW when he was its director of design. Bangle polarised opinion; some considered him a genius, others demanded he be sacked, all the while BMW was never out of the public's eye.
Ian Callum.
Trekka rating: 4
Why he's hot: He's combed the cat
Poor old Jaguar; it did the E-Type and a few sizzlin' 60s sedans, then went into a styling black hole.
Callum, 58, Jaguar's design director, has restored good design and collected awards to validate his approach, most recently manifested in the stunning F-type.
Walter De Silva
Trekka rating: 5
Why he's hot: Huge automotive canvases a specialty
De Silva, 61, heads Volkswagen Group's design putting him in overall charge of everything from Audi to Lamborghini and Bugatti. That's quite a challenge for this former design boss at Fiat, but he's clearly up for it, overseeing a group of cars mostly admired for their simple, elegant lines.
Ralph Gilles
Trekka rating: 3
Why he's hot: The 300's a mongrel in Manhattan
American-born, Montreal-raised, the 40-year-old head of design at Chrysler caused the public to sit up and take notice with the trendsetting 2005 Chrysler 300. Gilles is one of the younger guns of big-company car design who has plenty more switches to click.

Roberto Giolito
Trekka rating: 4
Why he's hot: Fiat's fab feel-good 500
The 48-year-old is chief designer of Fiat Group Automobiles and the gorgeous little 500 is just one of his triumphs. On the other hand, the odd Fiat Multipla was also his work.
With Fiat's ownership of Chrysler, Giolito is poised to be one of the world's most influential car designers.
Giorgetto Giugiaro
Trekka rating: 6
Why he's hot: Designers worship at his feet
Head of Italdesign Giugiaro, the 74-year-old Italian design icon was named Car Designer of the Century in 1999 and became a member of the Automotive Hall of Fame in 2002.
He styled the first Volkswagen Golf and the Fiat Panda among more than 160 cars, including many of the most highly regarded supercars.
He also designed cameras for Nikon, handguns for Beretta and motorbikes for Suzuki and Ducati.
Gerry McGovern
Trekka rating: 4
Why he's hot: Lincoln Mercury yesterday, the world today
MG-F, Land Rover Freelander; the former top gun at Lincoln Mercury Design is now design director at Land Rover and Range Rover, turning out such stunners as the Evoque and the new Range Rover.
McGovern, 56, is a man who is happy in his job: "Land Rover fascinates me more than any other car maker because it has its roots in pure design as opposed to styling."
J Mays
Trekka rating: 3
Why he's hot: He did the concept that led to VW's redesigned Beetle
Group vice-president of global design at Ford Motor Company, the 58-year-old has a broad canvas on which to draw shapes for the world market. Ford is doing well; its designs are generally well regarded. Think of Mays (his first name is just "J") as a conductor of a talented orchestra.
Shiro Nakamura
Trekka rating: 4
Why he's hot: "We are painting dreams bigger than life."
Chief creative officer at Nissan Motor Corporation, Nissan 370Z, Altima, Murano and GT-R, Infiniti M, G, and FX and concepts like the inspiring Infiniti Essence ... Nakamura's been there and penned that, or at least headed the team. The 62-year-old really hit his stride at Nissan after 25 years at Isuzu and has worldwide awards to prove it.
Bruno Sacco
Trekka rating: 5
Why he's hot: Mercedes-Benz C111
Now 78, his pen now mostly in his desk drawer, Italian-born Sacco headed Daimler-Benz design from 1975 to 1999, and his legacy lives on.
He is acknowledged as one of the greatest auto designers, and his list of achievements goes on and on.
But Driven will always remember him for the stunning Wankel-engined Mercedes C111 gullwing from 1969-70.
Martin Smith
Trekka rating: 4
Why he's hot: The best of Ford's best
Notice how most of the best-looking Fords are from its European studios? Smith's the guy in charge there, after earlier careers with Porsche, Audi and Opel.
The 63-year-old Englishman also supervises design in Ford's Asia-Pacific region, which means the next Falcon will be on his mind around now.
Ed Welburn
Trekka rating: 3
Why he's hot: Bringing GM back to design glory days
"You don't want to be the person who ruined the Corvette," says General Motors' vice-president for global design of one of his most high profile assignments, the 2014 model of the classic American sports car.
It probably won't happen; he's already led design staff on a heap of good-looking GM cars, including the Cruze.