New enduro comp combination of four events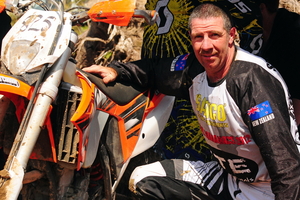 New Zealand has a reputation for producing motorcycle hard men and the latest development in the sport of extreme enduro racing is set to enhance that reputation.
With Auckland enduro ace Chris Birch now resident overseas, plying his trade in South Africa, and fellow Kiwi internationals Paul Whibley, Rory Mead and Adrian Smith all making a huge impact racing in the United States, it is obvious that somebody is doing something right back here at home.
And that person is probably Tokoroa's Sean Clarke.
New Zealand already has several popular and well-established extreme enduro events on the racing calendar, but now Clarke and the KTM motorcycle company intend to bind them together to create a super competition, the KTM Extreme Enduro Series.
The four major extreme enduro events on the calendar will remain stand-alone events, if that is how riders want to treat them, perhaps picking and choosing which events suit their schedules, but Clarke is also bringing them together to form a KTM Extreme Enduro Series, with a special prize to the one outright winner in each bike class.
"The KTM Extreme Enduro Series is a combination of four different events that will decide New Zealand's best extreme enduro rider. Points will be awarded in each round across four different grades - pro, expert, clubman and moto trials.
The opening round is the Riverhead 100, in the Riverhead Forest, west of Auckland, this Sunday.
"At the series final, the No Way In Hell extreme enduro at Oparau, the riders with the best tally from any three of the events will take home the trophy and the bragging rights," says Clarke.
"All the No1 riders from all the motorcycling codes will likely come together for this. We have seen huge interest from top motocross riders such as Rotorua's Michael Phillips, enduro riders Chris Birch and Rory Mead and six-time national moto trials champion Jake Whitaker."
Leading domestic riders such as Aucklanders Michael Skinner and Freddie Milford-Cottam, Hokianga brothers Mitchell and Damon Nield and Tauranga's Reece Burgess would also be trophy contenders.
Clarke said that having moto trials exponents entered would also add a new dimension to the events.
By the end of March we will know which rider and which motorcycling code can claim to be the king of extreme.