Safety features are still to the fore, but Volvo's new, edgy V40 hatch aims to upstage its German rivals.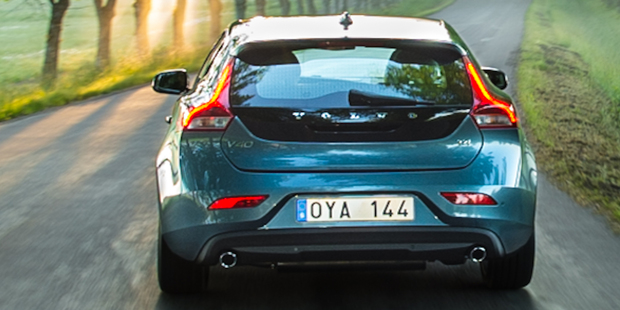 One of the "likes" on my Facebook page is a campaign to bring Ikea to New Zealand. I admit to "worshipping" at the Swedish store in Hong Kong, Singapore, Melbourne, Sydney and Kuala Lumpur.
I even used a one-off business class excess luggage allotment to bring in Ikea stools, bookcases and kitchen shelves after an Australian trip.
I'm not a fan of flatpack, build-it-yourself items (lack of patience) but I am a fan of the clean, Scandinavian lines of the furniture. Nothing too ostentatious. Pure design and simple.
Although Ikea isn't here - yet - there is the Swedish firm's motoring equivalent, Volvo.
It's been a conservative presence on our roads, happy to motor along - at the speed limit, of course - with the reputation of being a sensible, safety-conscious buy.
A single acquaintance always coveted one as the car to transport her future kids around in and a colleague, formerly a nanny, had to ditch her old runabout for the school run and, instead, pick up her charges in her boss' Volvo.
But, like Sweden coming out of a dark, long winter, Volvo New Zealand is blooming and being bloomin' cheeky with it. For the first time in 20 years, the brand has introduced a five-door hatch to its line-up, and wants to take on the Germans (Volkswagen Golf, BMW 1 Series, Audi A3, Mercedes-Benz current B-Class and next year's A-Class) and a couple of French hatches (Peugeot 308 and Citroen DS4).
Its marketing campaign is based on the line "It's You". In the coming months check out billboards from the Swedish brand that take the mickey out German rivals in the luxury compact segment.
But, despite the funny billboards and the V40 having more safety features than there are sofas in an Ikea catalogue, snatching customers from the big Bavarians won't be easy.
Volvo NZ's general manager, Steve Kenchington, has a plan, though.
He points to the number of used imported BMWs and Audis on our roads, and the V40 providing a different look for our driveways.
He also wants to nab potential buyers (or "conquests" in marketing speak) of next year's hot hatch releases: the A3, Golf7 and A-Class.
Moving away from the usual, older Volvo owner, he instead wants Gen X (and a few Gen Y) buyers, the 34-54 age bracket who are pre- or post-families - and expects 80 per cent new customers.
Kenchington is also building on the current success in New Zealand of the discounted XC90 - last year it sold 15 of the large SUVs, this year it's sold 50.
The V40's workload will be increased, too, as it is replacing the C30 hatch, S40 sedan and V50 wagon in New Zealand.
Due to high demand for it in Europe, stock here is limited at the start so Volvo NZ will launch its campaign with its 2-litre130kW/400Nm diesel in six-speed manual and automatic transmissions (for $49,990 and $54,990 respectively).
The company is taking orders for the February arrival of the 2-litre petrol (132kW/300Nm) and the sporty T5 design with a 2.5-litre petrol engine (187kW/360Nm) - priced at $52,990 and $64,990.
Kenchington expects to sell out his first shipment of V40s and has a projected target of 30 units this year and 100 in 2013.
His hatch, match (and dispatch) plan is helped by the fact that the V40 isn't going to be mistaken for a German or French car. That's thanks mainly to the L-shaped rear tail-lights (as seen in the XC60 and V60) that dominate the boot. Added to that is the large front grille with the large Volvo symbol and LED day running lights sitting at the bottom of the bumper.
The V40 will be the last Volvo to be based on a Ford platform - the outstanding Focus - since new owners, Chinese company Zhejiang Geely Holding Group, took over. The Focus chassis hasn't always translated well to the Volvo product but, in this case, the results are impressive.
The V40 is arguably the most engaging car to drive in Volvo's range and flows beautifully over Kiwi backroads, and handles city traffic with ease.
Thanks to the big boot I wonder how many flatpack Ikea items will fit in the V40? I hear a couple of Auckland businesses are importing Ikea products.
Hmm, I feel an outing is in order for the V40 and for my credit card.