We go to Paris to drive the new-generation Mazda and discover the sedan and wagon have '6' appeal.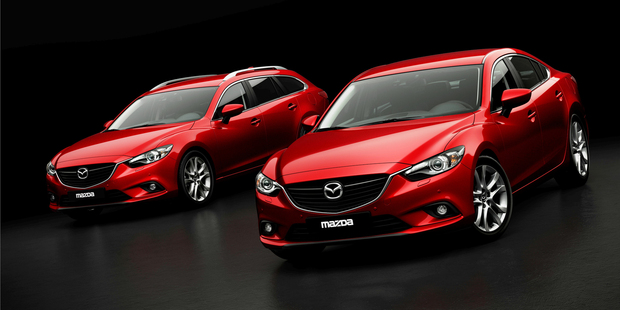 Until the latest global version of its wagon was revealed at the Paris motor show, following the sedan's unveiling at the Moscow show earlier this year, the Mazda6 that's becoming a familiar sight on New Zealand's roads was not the same as in some other countries.
America wanted a bigger version. So did Russia. But these two show-floor reveals have given us a changed Mazda6 that will compete on a far higher level than its predecessor - which wasn't a bad vehicle.
In its third generation, Mazda has rationalised the model spread, drawn a line through the spec of 'our' car and the larger US model, and come up with a vehicle that brings a lot to the medium car market, while still dipping its toes into the large car arena.
The days of the traditional big car are numbered, and that is where Mazda's designers have may have played their masterstroke. With a 2830mm wheelbase, the sedan is still one of the biggest in its segment. It packs a 489-litre boot capacity and there's enough legroom for just about anyone.
But it doesn't come with a single engine option that you could accuse of being thirsty.
Despite more size, the outdated V6 of a decade ago will continue with a good choice between petrol and diesel and engines, all highly efficient and in keeping with Mazda's ambitious SkyActiv credo/product plan.
Mazda engineers and designers have gone back to basics - engines, bodies and chassis have gone under the microscope to make them more efficient. When the boss asks for a 30 per cent reduction in fuel use, it's a tall order, but some ideas have achieved staggering results.
The relatively high-revving, high-compression SkyActiv-D common rail 2.2-litre diesel engine will come in two different trims and join a 2-litre SkyActive-G direct injection petrol and a 2.5-litre version.
The diesel mill, seen in the recently launched CX-5, defies the usual rules for a diesel. Its 14:1 compression ratio allows it to rev, delivering the sense of urgency that generally makes petrol engines more engaging to drive.
One version of the 2.2-litre diesel has a carbon footprint of just 104g/km of CO2 - less than Ford's highly-acclaimed three-cylinder 1-litre EcoBoost that was awarded Engine of the Year for its environmental tricks with 114g/km. That is only in six-speed manual form, and the entire range available in New Zealand will be using the SkyActiv-Drive six-speed auto, although the diesels return 127g/km and meet Euro6 emissions standards.
It's not just under the skin that the Mazda6 has lifted its game. The Kodo design philosophy sees sweeping lines that mimic animal stances and traits - giving obvious 'hips' and 'shoulders', a more purposeful look. A new grille follows the same carefully-lined face of the CX-5, the facelifted Mazda3 hatchback and, if the designers can get the look right, the next-gen Mazda2.
The Mazda6 is now sporting a design that matches quality with some of the Euro pack, and an extremely stylish interior that is the equal of some and undeniably better than others.
International motoring press were able to drive the car and experience some of its new-tech tricks during the Paris motor show. Based at Chateau du Mery, about 30km from the centre of Parisian madness, near where Van Gogh had his last couple of months of prolific artistry before slowly killing himself with a poor shot.
The vehicles we drove were a mixture of engine, body and options that will be on sale here in the first quarter of next year. They were all left-hand-drive, and none was completely finalised production vehicles - a hair's breadth away from the assembly line, but still undergoing minor tweaks as feedback is compiled by Mazda6's project team.
Despite the new choice of 19-inch alloys, the sedan and ever-so-slightly smaller wagon are incredibly well settled. The front wheels have been moved forward slightly, allowing the pedals' position to be optimised, reducing overhang of that lovely new front end, and the suspension has stiffer and lighter front struts. With a change in set-up for the multi-link rear end, this aims for a balance between low-speed agility and high-speed stability. This was backed up by its willingness to fly around those small traffic islands, and one of the test party's impromptu pheasant test at adventurous pace served to illustrate the other.
The big new wheels fit nicely under the guards, and gel well with the speed-sensitive power steering; the low-profile tyres not having a particularly noticeable effect on ride quality.
Body strength has been increased with more ultra-high-tensile steel and some clever work with vibration damping foams but less weight. It does not feel like a bigger car - something that bodes well for future expansion of the range.
Programme manager Hiroshi Kajiyama told Driven that possibilities like a turbo petrol engine or all-wheel-drive are being talked about. He would not discount a return of the hugely entertaining go-fast MPS four-wheel-drive Mazda6, last seen in the car's first generation.
Yoshitada Toyoshima of the chassis dynamics development department said early prototypes had been to New Zealand's proving grounds. "It's a very, very hard country for suspension," he said. "The last generation did have small issues with comfort on some roads - it was perhaps tuned a bit more towards performance than comfort."
While Toyoshima said that this third-generation Mazda6 was tuned more towards luxury, on some of the tighter country roads outside Paris it was a very positive-feeling vehicle, even at pace.
Engaging the driver and making him or her feel "at one with the car" is something engineers aim for. Mazda has achieved this over the outgoing model in simple ways. The steering is weighted far more solidly and returns to centre with reassuring fluidity. Steering-mounted shifters for the six-speed auto allow both hands to comfortably grip the leather-wrapped wheel, and a far more sculpted seat style gave a more stable feeling when driving.
France's passive traffic-slowing systems include teardrop-shaped traffic islands, often at the entrance to small towns. These are quite often tucked into the curve of a brick wall - something that serves its purpose. But the more positive steering feedback turned these into little challenges as opposed to sorting out behaviour.
The chassis is fantastic, and a handful of safety systems will be available across the range. Radar cruise control keeps the car at a safe distance from the car ahead at up to 200km/h; Smart Brake Support monitors cars up to 145km/h and will brake if the driver does not respond to warnings. There's a blind spot-defying rear vehicle motor, flashing signals in the wing mirrors to warn of approaching traffic. It has the expected ABS with electronic brakeforce distribution, traction control, brake assist and DSC (dynamic stability control).
The interior is extremely comfortable when on the move, with a light whisper of wind noise evident on the pre-production models which is likely to be eliminated when the final tweaks are made. Road noise, even on those 19s on a coarse (for Europe) surface: minimal.
The cabin colour selection available in New Zealand seems to pay tribute to Mazda's past relationship with Ford - black, either leather or fabric, although there will be a limited number of off-white interiors.
Five years since that last facelift have morphed the two sizes together in a cunning compromise that will probably suit everyone a bit better, and without building four vehicles. And while we get a slightly larger version, those up north have their model shrunk to a more manageable size.
When the Mazda6 arrives there will be five wagons, with both power specs of the SkyActiv-D 2.2-litre diesel and three different trim levels; while there will be a 2-litre petrol GLX and a 2.5-litre GSX. Sedans will come in four flavours - a petrol 2.5-litre premium GSX and diesel in GLX, GSX and the range-topping Limited spec.
The petrol options, 107kw or 121kW, both make 210Nm of torque, and the 2.2-litre diesels, now twin turbocharged, make 110kW and 380Nm in the lower tune and 129kW and a solid 420Nm - both from just 2000rpm.
If I had to choose, even with the Road User Diesel Travesty Tax, the 129kW diesel would be the winner - with the high compression ratio and extra revs, combined with the six-speed manually changeable automatic, it can cruise economically all day, or if the mood strikes can be tempted into a bit of Zoom Zoom.
In New Zealand, Mazda is holding its own in sales behind Toyota, a couple of Aussie battlers and Korean darling Hyundai. Its mega-selling Mazda3 is due for a redesign, and would likely help the company shuffle up the order if the Kodo styling, SkyActiv engineering and driver focus transfers as successfully to the next generation. It needs the right mix of hatch, SUV crossover and roomy medium-sized machine on the books.
Mazda may have turned a corner.