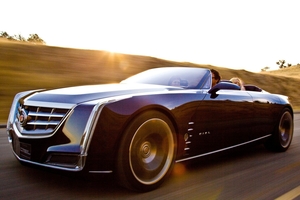 Toto Toto Ltd, a Japanese toilet company, has built an efficient motorcycle that runs on ... um, excrement.
The Toilet Bike Neo, a three-wheeled, 250cc trike, actually runs on livestock waste, or waste water, and not the rider's bowel movements. The toilet-derived seat is just a gimmick.
Bit of a shame, really, but not to worry; the Toto sprints to the front of Japan's clean-vehicle initiative faster than a bad case of the trots, and could be followed by a production model, although probably without the toilet seat.
A leaf out of Mini's book
Sources from the UK suggest that the next Mazda MX-5 sports car, due in a couple of years, will have "personalisation possibilities similar to those of the Mini Cooper". If true, it means that no niche will remain unexplored.
Making multiple Mini models, and then offering all sorts of extras, has been a success for the BMW affiliate.
The new Mazda is being co-developed with Alfa Romeo as part of a joint venture. Key features are likely to be a body at least 100kg lighter and a 1.3-litre turbocharged engine that will be significantly more powerful than the current 2-litre unit.
My other vehicle is a 5 Series
BMW's poised to get more serious about scooters with new models including the electric C Evolution e-Scooter.
A concept, the C1-E, came out a few years ago and laid the groundwork for a new production two-wheeler.
This renewed interest in scooters may have something to do with Audi's purchase of Ducati, and BMW's desire to broaden its product portfolio.
And Smart, Daimler's urban niche specialist, which already makes a bicycle with electric propulsion, is planning an electric scooter.
Cadillac today, maybe Holden tomorrow
A version of the stunning Cadillac Ciel concept car is said to be heading for production, albeit with toned-down styling.
The production Ciel will be built on the General Motors Omega platform. This is the new rear-wheel-drive platform for large cars that will first appear under the next Caddy XTS. Some say it will underpin a future Commodore.
Meanwhile, Cadillac is introducing its version of the Chevrolet Volt electric car, the ELR.
Things to do with a Hummer H3
A quick-thinking Canadian driver drove his Hummer H3 in front of a distracted motorist to save four children.
Darrell Krushelnicki, 46, saw a car about to speed through an intersection in suburban Edmonton, Alberta, endangering the children aged between three and 16.
So he pulled his Hummer in front of the errant silver Pontiac to prevent them from being hit. News reports said the 23-year-old Pontiac driver was talking on his cellphone while doing around 80km/h in a 30km/h speed zone.
Arnold Schwarzenegger is considering the Hummer driver for an award. Just kidding about Arnold, but the Edmonton police are on to it.
The name game
Nissan must have thought Moco a pretty cool name when it introduced the wee MPV, a rebadged Suzuki MR, in 2001. Too bad, then, that in Spain it's a term for, um ... Nasal waste. Critics mocked Nissan, but Good Oil reckons they were being too picky.
We are the world
*Rodney Valentine, 37, was released from jail in North Carolina one day at 8am, but refused to leave until police agreed to drive him to a motel. They declined and, by noon, he had been re-arrested and charged with trespassing in the jail.
*The most recent musician to leave a rare, expensive instrument on public transport was the guy who a few weeks ago left a borrowed Stradivarius violin on a train in Bern, Switzerland. Happy ending, though; it was turned in by a good Samaritan.
*Under the US Department of Transportation's latest draft guidelines for airlines on assistance animals, miniature horses and pot-bellied pigs are allowed under certain conditions, but not ferrets, rodents, spiders, snakes or other reptiles.
*A French farmer fed three cows with a fine wine for four months. They apparently consumed it "with relish" ... well, with a mixture of barley and hay. The resulting meat, labelled Vinbovin, has become a delicacy in top Paris restaurants.