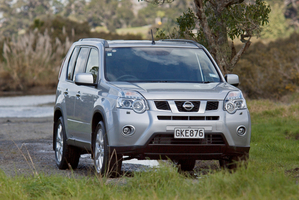 Cameras give Nissan SUV drivers an all-round view - even from above.
Another bit of useful technology migrating down from expensive luxury cars and SUVs is the 360-degree video view of what's outside, provided by wee strategically placed cameras.
True, that's what the driver's eyes are for, but the cameras are useful assistants. They provide views of the blind spots and they help make driving easier and safer.
Latest to offer this feature in New Zealand is an upgraded version of Nissan's sturdy X-Trail Ti SUV. The company calls it Around View. At the push of a switch down by the gearshift, the screen it shares with satnav brings up a view of what's ahead or what's behind, depending on the direction of travel - and as long as the speed isn't over 10km/h.
These views are overlaid with lines showing the path the vehicle will travel with the steered wheels in their present position. That'll be a familiar sight for owners of vehicles with many types of reversing camera.
Around View also provides a "virtual" bird's-eye view of the car's entire surroundings. Press the switch again and its party trick is revealed.
This is to bring up a view of the left side of the vehicle to show the driver how close it is to a kerb or other potentially object likely to damage the expensive 18-inch alloy rims.
It's the next best thing to having one of those cars that park themselves; X-Trail drivers need fear parallel parking no longer.
Around View provides the big picture via four little cameras, their lenses barely a centimetre in diameter. One's in the nose, under the Nissan logo, another is hidden under a trim panel on the hatch door and one is mounted vertically on the undersurface of each outside mirror.
The cameras are positioned so they're shielded from water and dirt - and vandals. It's not a substitute for being alert and using the eyes, but that left-hand view is a great additional aid.
Rearward vision is not particularly good on the X-Trail, so the rear camera helps there.
Much has been said about the danger of toddlers out of sight behind a car, but it's also possible a small child, pet or solid object might go unnoticed directly in front. So the nose camera's a useful accessory, too. It's of less use for trying to judge how close the nose is to that wall or fence; a beep would do the job better.
Despite looking a bit like something designed using Lego blocks, the X-Trail is an excellent SUV, with an attractive and useful interior - particularly the leather-clad Ti.
The large glass sunroof is appealing. Even if it's never actually opened to let in fresh air, it lightens the interior. There's a sliding privacy panel for those who don't want to be stared-down on by bus passengers.
Similar well-kitted versions are available in either petrol or diesel. Driven's tester had the 2488cc four-cylinder petrol engine producing 126kW and 226Nm of torque, returning 9.1 litres per 100km overall and emitting 209g.km of CO2.
The engine feeds a CVT transmission that's not a bad example of its genre, and the combo offers reasonable performance although, were this the auto Olympics, it would probably just miss the podium.