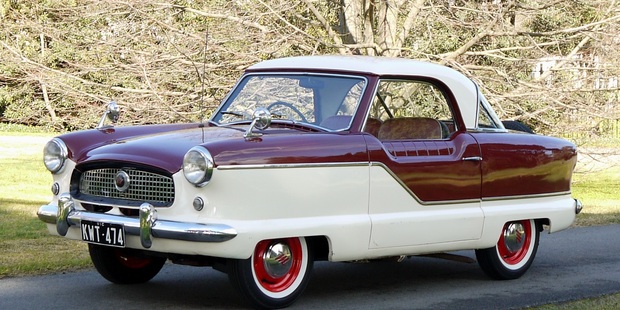 NZ link in rare car once aimed at women-only market.
An American classic with a Kiwi connection and a famous motorbike are two of the highlights of an upcoming auction in Australia.
The Shannons Melbourne Spring auction on Monday, August 27 will feature a striking 1956 Nash Metropolitan coupe finished in burgundy over white.
The eccentrically-styled, 3.8m long sub-compact Metropolitan coupe had a shorter wheelbase than a VW Beetle and was the first American car to be marketed specifically to women as the second vehicle in a two-car family.
The car is powered by a four-cylinder Austin A40 engine and built at Austin's Longbridge factory in Britain.
Just over 100,000 were built between 1953 and 1962, and most were delivered to North American customers, making right hand drive examples very rare.
The factory right-hand drive 1.5-litre-engined Metropolitan being auctioned is believed to have been delivered new to New Zealand.
Cosmetically restored in the 1970s, it was placed in long-term storage from the late 1980s until this year, but was recently recommissioned with reconditioned brakes and new whitewall tyres.
Sold with its owner's manual, this quirky Nash can be driven as is, or restored to bring it back to top-line condition, as its Austin parts are cheap and reasonably easy to find.
The Metropolitan is being offered with no reserve and for its collectible and curiosity value alone is expected to sell in the A$8000-$12,000 range.
Also up for auction at the event is a rare Melbourne-built 1914 Mostyn motorcycle in original condition after a sheltered life.
Expected to sell in the A$24,000-$32,000 range, the bike was assembled in a frame made by A.G.Healing of Little Bourke St in Melbourne, then badged and sold by William "Mostyn" Tanner of 200 Canterbury Rd in the Melbourne suburb of Canterbury.
After being uncrated in 1953 - still unused - the Mostyn spent time in the front window of a motorcycle shop in the central-Melbourne Elizabeth St in the 1970s and in later years went on display in the Maffra Motor Museum.
It has been meticulously cared for all its life and remains in pristine, original condition and is fully operational.