Nuda's ride is exhilarating, and so is the chainsaw soundtrack.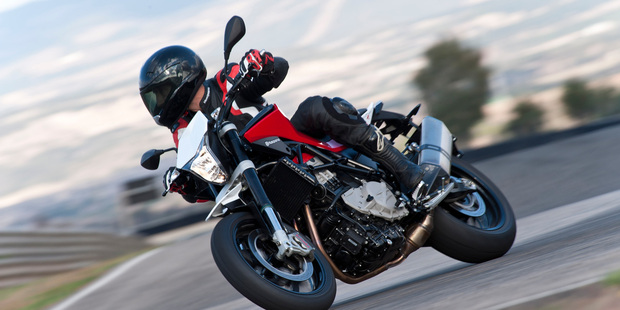 The neighbours will love the 900R's riotous soundtrack.
Forget chainsaws and sewing machines - there's only one Husqvarna in my book, and it's the one with two wheels and a numberplate. For the naughty Nuda 900R takes a stripped-out supermotard a step further with race brakes, adjustable suspension, and the sort of riotous soundtrack that'll set hearts a-fluttering and neighbours muttering, but leave its rider with a mile-wide grin.
Husky's better known to bikers for its off-road machines, with multiple motocross and enduro championships under its belt.
But what was once a Swedish armaments firm, then a bicycle builder, turned to road-going motorbikes and Harley-style V-twin engines from 1903.
BMW bought the brand in 2007, but far from reining it in it's released the beast to add a dangerous edge to a format which proved less memorable under the German brand.
The Nuda is effectively a BMW F800 with a bigger capacity and harder focus. The R is taller than its standard Nuda sibling, with Brembo monobloc brakes, a smaller front sprocket for more aggressive acceleration and fully adjustable Sachs front and Ohlins suspension. The 875 to 895mm seat height, depending on how you've adjusted the suspenders, makes this a tall bike, but it's also dirt-bike slim and light, tipping the scales at just under 200kg to let you make the most of the 77kW and 100Nm performance figures.
And it feels like a dirt bike when you're blasting through a set of bends. The wide bars let you tip it into extreme angles, the firm suspension manages reasonable compliance while the 17-inch tyres stick to the road as you flick it down a gear and haul out, the torquey 898cc motor punching the power down with a raucous rebel yell, and responding with instantaneous vigour that suggests it's directly connected to your brain, not your throttle grip.
The dirt-bike geometry that makes it so nimble and the lightning-quick throttle action and quick-acting six-speed transmission encourage hoonery - a flick of the wrist stepping the back out, a twitch of the bars gathering it in as you perch over the tiny tank like a Grand National jockey with the last fence in sight, the Nuda snapping at the leash and egging you on with anarchic joy.
That makes it sound uncompromising and in some ways it is. The seat doesn't encourage hours in the saddle - fortunately the 13-litre fuel tank mandates regular breaks. There's no wind protection. And the luggage extra that'd set you back $1799 is so small you may as well not bother.
Yet the very things that make this bike such fun down a back road also suit it to the daily commute. The height gives you a bird's-eye view over traffic, it'll steer through, around and even over almost any obstacle, and few gaps are too small to be darted into. I even got used to the seat.
Better still, unlike the standard bike, the added extras also ready you for track days, with removable passenger pegs, well sorted and adjustable suspension and brakes that are overkill on the road. A too-sudden haul on the levers stands you vertically over the front wheel; you quickly learn to feather the brakes under all but the hairiest provocation, but you know whatever happens you will stop - a boon when that inevitable idiot pulls out in front of you.
And it's loud, even with the standard pipe - and there's a truly barking titanium carbon muffler as well, for those who really want to turn heads. Not that you need it, for the $19,990 Nuda R's radical looks will do that for you.