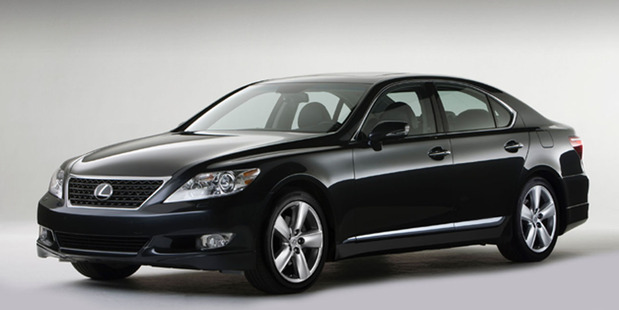 Lexus will show off its premium LS range in San Francisco on July 30. The LS family will eventually be available in four variants, including a racier F Sport model. There's also talk the LS TMG Edition seen testing at Germany's Nurburgring will also appear. Lexus has kept a lid on what we can expect, though odds are designers will apply the company's new spindle grille to the vehicle's fascia. New headlights with LED daytime running light accents and metal elements are also likely.
Scottish cops want black boxes in cars
Police in Scotland are asking the Government to help them slow down drivers. Despite the country recording its lowest traffic deaths since records began, Transport Minister Keith Brown says: "One death on our roads is one too many as far as I am concerned."
The cops want the Scottish Parliament to push carmakers into making cruise control standard equipment. "If all cars had cruise control, it would be easier to drive within limits," says Chief Superintendent David O'Connor.
He would also like to see all cars fitted with black boxes to record driver behaviour. The device, he argues, would be most beneficial among drivers under 25.
Taco Bell to the rescue for hungry Alaskan hoax victims
The townsfolk of Bethel, Alaska, were excited when they heard that fast food chain Taco Bell was going to open an outlet.
Flyers were posted heralding the pending arrival - but it was a hoax.
Taco Bell heard about it and turned the hoax into a public relations opportunity. It filled a Taco Bell truck with 10,000 tacos and airlifted it by chopper into Bethel as "Operation Alaska". The report said the townsfolk greeted the fast food drop as if it were UN peacekeepers delivering aid to a war-torn area.
P1800 coupe has some mileage under its hood
New Yorker Irv Gordon bought his Volvo P1800 coupe new in 1966, back when it was the choice of wheels for Britain's Roger Moore in the TV show, The Saint. Since then Gordon has done 2.966 million miles, or around 4.8 million kilometres. Gordon has just 34,000 miles to go before rolling past the three million mile mark. The P1800 is 46-years-old. The engine is original, although it has been rebuilt twice. Gordon attributes the vehicle's longevity to good design and proper maintenance. On average, he clocks around 162,000km a year.
Powerglide, big shift to the present
Remember the Powerglide transmission, an automatic with two forward speeds? It's almost inconceivable today that such a unit was ever state of the art. German supplier ZF has now moved past six-, seven- and eight-speed automatics and into a nine-speeder. Hyundai is said to be looking to pack 10 gears into a gearbox. ZF's North American president Julio Caspari says the gear race is "close to the limit" and questions the cost-effectiveness of building a so-called "perfect" transmission, requiring expensive materials like ceramic bearings.
Match winners sock it to Fiat
US children's fashion company LittleMissMatched got plenty of ink for a promotion it did with Fiat: "Buy 1111 pairs of socks and get a Fiat 500 free". It sells socks three to a pack, each with a different pattern. So the Seattle winners actually bought 3333 socks for US$15,000 ($18,880).
We are the world
* US attorney Andrew Basiago told the Huffington Post that he "time-travelled" eight times as a child as part of the secret Project Pegasus staged by the Pentagon's notorious Defence Advanced Research Projects Agency. Another lawyer, Alfred Webre, told a seminar in Vancouver that teleportation (transport across distance instantly) is an "inexpensive, environmentally friendly means of transportation" and was used most recently by then-US Defence Secretary Donald Rumsfeld "to transport troops to battle". Basiago said that he was at Washington's Ford's Theatre the night Abraham Lincoln was assassinated but did not witness it.
* A Saudi man in his thirties, identified by the name Mutannish in reports, has been sentenced to death by beheading for causing two onlookers to die during a demonstration of drifting. His sentence was likely influenced by the fact that he sped off and went into hiding. The sentence will be carried out by sword. Another Saudi man facing death for a similar crime had his sentence "reduced" to 3000 lashes, 20 years in prison and a lifetime driving ban.