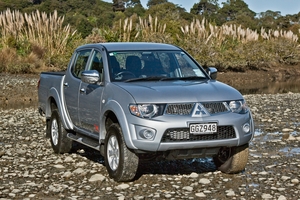 Mitsubishi gives the Triton ute a rural rev-up in time for Fieldays.
In this case, the X in Triton ChargerX's name marks the spot where two marketing imperatives collided, with a positive result for anyone in the market for a ute.
Mitsubishi's Triton has been overshadowed of late by newer and possibly more glamorous utes, the Ford Ranger, Mazda BT-50, Nissan Navara ST-X 550 and, imminently, the Holden Colorado. Even SsangYong has brought in a new Actyon ute from Korea.
Meanwhile, Fieldays looms. New Zealand's largest and sometimes muddiest tent city, at Hamilton's Mystery Creek, has become a magnet for car companies with at least one gumboot in the rural sector. They've found it a good place to offer special editions, or even introduce new products.
Mitsubishi's response to these converging circumstances has been to introduce the ChargerX, a tarted-up Triton at an appealing $41,388. A regular GLX equivalent costs $51,990.
It's a vehicle that'll look good on their stand at Mystery Creek, and later inject showroom interest in the one-tonner long after the event has finished.
The interesting thing about this particular special edition is that many of the extras are things buyers might actually want and find useful, rather than just added bling, such as chrome-plated load-tray rollbars, some of which offer no protection in an actual roll and are good only for securing one end of a ladder or some four-by-two.
The special is based on the GLX double cab 4WD, but equipped to mimic a top-range GLS that costs $55,440 with a five-speed manual. It will also be available with an automatic transmission.
ChargerX has carpeting throughout, custom mats, bucket-type front seats, substantial and attractive sport side steps and quite nice alloys. Its four-speaker Bluetooth-integrated sound system has MP3 and USB inputs. Out back is a strong chrome-finished bumper.
The example Driven tried also had a good quality tray liner that costs $559 and a towbar for $1024, fitted and wired. The ute is rated to tow 3000kg, braked.
Mitsubishi claims its ChargerX is the best value price in New Zealand for a sport specification ute equipped with electronic stability and traction control and a full set of airbags.
If the ChargerX seems vaguely familiar, that's because the name has been used for years in various markets for special edition Mitsi utes, some of them more extensively equipped than the model now being offered. Various earlier ChargerXs have arrived in New Zealand as used imports.
None of the add-ons make ChargerX a better performer, but that's okay. The 2.5 litre turbodiesel produces 407Nm of torque and offers lively performance even with a heavy load. The engine's not the smoothest or quietest ute engine these days, but it's well short of being unpleasant.
Its load capacity is good and the tray size quite decent following a facelift in 2009. Even its styling, once controversial, seems mainstream nowadays compared to such rivals as the Mazda BT-50.
Bottom line: Special edition, special pricing - and most buyers will probably find the added equipment useful. Xcellent work there, Mitsubishi.