Porsche's supercar ramps hybrid capabilities to mind-boggling levels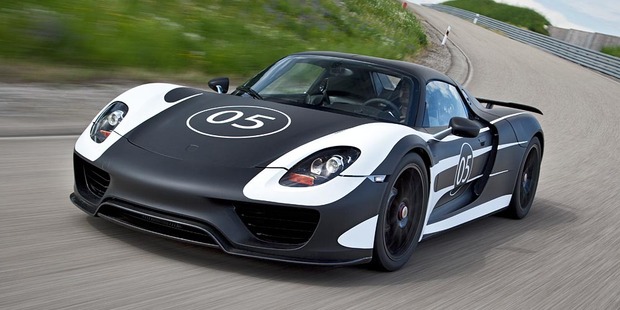 Porsche's impressive 918 Spyder has finally hit the road, albeit in prototype form.
The German icon has announced that the plug-in supercar will go into production in September next year.
Defying Europe's economic uncertainty, the Spyder is expected to cost up to $1.5 million - but whether any of the 918 cars to be produced will come to New Zealand remains to be seen. The stunning Spyder offers a trio of powerplants in the one car, but at the heart of matters will be a mid-mounted, dry-sumped 4.6-litre V8.
That engine will push out around 570 horsepower at a screaming 9200rpm redline, with electric motors on both axles - 90kW for the rear end via the driveline, and 80kW at the front.
This adds up to a 770hp monster, that has a selection of drive modes to suit everything from a supermarket run (yeah, right) to unbridled racetrack lunacy.
In eDrive mode, the company claims a very un-Porsche 3L/100km, using only electric power from the liquid-cooled lithium-ion battery, with a range of up to 25km.
A regenerative braking system will recover kinetic energy to feed back to the battery, fitted behind the two seats.
Hybrid mode uses both the V8 and the electric motors, and switches between the two power modes depending on driver demands. Sport Hybrid also uses both systems, but pushes most of the power to the rear wheels.
Race Hybrid mode focuses entirely on going fast and uses nearly all reserve power, but if the battery charge level is high enough, a "push-to-pass" button will give an extra boost and unleash the whole lot.
This big pile of power is fed to the wheels via a seven-speed PDK transmission, adding up to a potential sub-three second sprint to 100km/h, double that in under nine seconds and maxing at 325km/h. It should be possible to wind around 150km/h out of the Spyder without using the V8 at all.
Porsche is using this car - essentially a replacement for the seriously-limited Carrera GT - and its GT3 hybrid race car as proof it's taking the hybrid market seriously, without compromising its roots.
If the 918's claimed hyper-performance capabilities, and very light CO2 output of around 70g/100km plays out, it's a hard point to argue.