Six tough 4WDs that like the rough...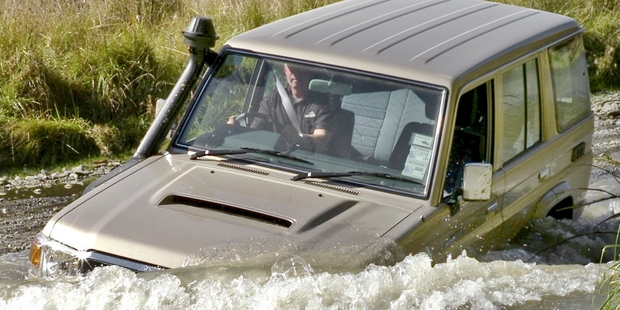 Talk about evolution of the species: first, there were just hard-working 4WDs. Then some went soft; a number crossed over and now some crossovers are crossing back.
While buyers try to sort out the shifting trends, there remains a core demand for "proper" 4WDs - tough vehicles that can go out and tackle the roughest tracks, trails and riverbeds the country has to offer.
These are for the people who, because of work or recreation, need to get to remote locations - and then get home again. This used to be the job of Land Rovers and war surplus Jeeps, joined later by capable Japanese 4x4s.
By the end of the 1980s, the choice of tough 4WDs was wide, but the number has shrunk as manufacturers find richer pickings in "softer" segments. Today, there's a core of just six hard off-road wagons and two utes on the New Zealand market, 40 per cent fewer than just 15 years ago.
A hard 4WD is defined by three things. One is that it has a beam axle suspension front and rear, also known as a solid axle or live axle. The configuration dates back to the earliest days of motoring but lingered on in trucks and 4WDs because of its strength, simplicity and ability to provide excellent and constant ground clearance and articulation on really rough tracks - big advantages for hard off roading.
The second criterion is a low-range gearbox with reduction gearing of at least two-to-one. When engaged, it lets the vehicle really crawl along and increases torque at the wheels.
A separate chassis, on to which the body is bolted, is the third criterion. In a world were unibody or hybrid chassis-unibody is common among 4WD wagons, the separate chassis is simple, strong and easily fixable. It's the preferred configuration for utes.
I'm sure something like a $200,000 Range Rover Vogue could do the job, but it is frighteningly complex for the bush and I'd wince every time a branch rubbed against its side. I'd sooner be in one of the core six, thanks. In alphabetical order, these are:
Jeep Wrangler
All models are capable enough off road, but the Rubicon's the one you want for climbing every mountain. It has plenty of sensible off roading extras including exceptional 4:1
every streamToyota Land Cruiser 70 - it's just as well the raised air intake is standard.
Mercedes-Benz G-Class has off-road ability and a quality build - but a price to match.
reduction gearing in the transfer case. This thing can really crawl. Although massively outsold by the four-door Unlimited, the two-door shortie's the way to go for hard off roading - and it still looks like a Jeep, not a half-hearted Hummer.
Vital stats: 3.6 litre V6, 209kW/347Nm, 10.7 litres per 100km, 248g/km. Two-door Rubicon auto costs $55,990.
Land Rover Defender 90 SW
Like the Jeep above, the short wheelbase 90's the best Defender off road; the 110 four-door's turning circle is huge. Both are exceptionally good in the rough, with well developed electronic traction control. Full-time 4WD is an advantage on the road. Sadly, the Defender's been developed beyond its potential: dumb rear seats in the two-door, a dash that takes too much room, a six-speed box that always seems to need changing in town. There's no automatic version, which must cost sales. Also available as a ute.
Vital stats: 2.2 litre turbo-diesel, 95kW/360Nm, 10 litres per 100km, 266g/km. Two-door Defender SW costs $68,500.
Mercedes-Benz G-Class
Although progressively upgraded, the G-wagen is still very much a 1970s vehicle, but that's okay because it's a brilliant off-roader. The Austrian offers tank-like build quality swathed in Mercedes luxury - and that's its failing, who'd want to go off-roading in a thing with such an expensive finish? It has full-time 4WD, which is good on any road. They keep talking of a cheaper, more work-a-day version for Down Under, but we're still waiting.
Vital stats: 3.0 litre V6 turbodiesel 155kW/540Nm, 11.2 litres per 100km, 295g/km. Four-door G 350 auto costs $179,900.
Nissan Patrol ST-L
With Nissan New Zealand trying hard to snare a suitable (ie, diesel) version of the new Patrol, which has independent suspension, the long-running present model is down to one version, the turbodiesel with four-speed auto. The seven-seater is showing its age, but it's still one of the best on any tracks that don't challenge its overall dimensions. Well priced in today's market, too.
Vital stats: 3.0 litre inline four turbodiesel, 118kW/354Nm, 10.9 litres per 100km, 287g/km. The ST-L auto costs $77,300.
Suzuki Jimny
Cheap and cheerful, the wee Jimny's reasonably good in the bush if you keep its pedal to the metal. Not much room for either occupants or gear. It's the only one to have if the trail is really narrow but, overall, the Jimny needs a major upgrade. Automatic's highway performance is marginal. The base 1.3 JX is only $19,990 and greenies will like Jimny's lowest-of-group fuel consumption and CO2 emissions.
Vital stats: 1.3 litre inline four, 63kW/110Nm, 7.1 litres per 100km, 162g/km. Jimny Sierra manual costs $22,990.
Toyota Land Cruiser 70 Series LX
Wagon version of an off-roader that's been around forever, now fitted with a wonderful V8 turbodiesel, but there's no automatic. Optional factory differential locks make it hugely capable, but leaf-sprung rear axle lacks the agility and ride of coil-sprung contemporaries, like all the others. It's a wonderful vehicle for off-roaders, but has become pricey. In addition to cab-chassis ute versions, there's a longer-wheelbase, three-door workhorse wagon that's loved by mining companies and Aussie cops, for $79,490.
Vital stats: 4.5 litre V8 turbodiesel, 151kW/430Nm, 11.9 litres per 100km, 213g/km. LX wagon costs $82,490.
Where the solid axles went
Jeep used to have two other models with beam axles, the Cherokee and Grand Cherokee. Land Rover used to have the Discovery and Range Rover. All have moved to independent suspension, either at the front or at all corners. Toyota used to keep a beam-axle Land Cruiser in the range, the RV, but it was quietly dropped years ago. The next Land Rover Defender will probably have independent suspension. The age-old configuration seems like it's on the brink of being a has-been.
Phil's picks:
If you don't need to carry lots of passengers or stuff, the Jeep Wrangler Rubicon two-door; if you do, the Land Cruiser 70 LX with the factory diff-lock package. Money no option, I'd have the G-Class and to heck with scrapes and dents; maybe I could do a great deal with Mr Dotcom for his, if he has to go to America.